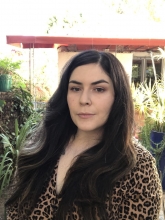 MSW Candidate
Hope Flores is a  second year Master of Social Work (MSW) candidate, with a clinical
concentration. She currently serves as a bilingual therapy intern, with La Puerta Abierta/The
Open Door. Which provides pro-bono mental health counseling and referral services for
Spanish speaking individuals, families, and groups, who are not eligible for medical
insurance. She is also a teacher at the Centro de Cultura, Arte, Trabajo y Educación
(CCATE), in Norristown, PA, where she provides weekly mental health and emotional
wellness classes for students in K-8 education, high school, and for the parents of CCATE
students.

She received her Bachelor's in Social Work (BSW), with a minor in Chicana/o Studies from
San Diego State University. Hope is from the beautiful community of Barrio Logan in San
Diego, CA. Her family is from the state of Baja California Norte in Mexico, and she had the
privilege of growing up in San Diego and Tijuana, BN. Her professional goals are to work as
a bilingual mental health therapist and meet the unique psychological needs of Latinx
communities in California. 

When she is not focusing on coursework and her internship, she enjoys cooking and eating
delicious food, and spending quality time with loved ones in nature.