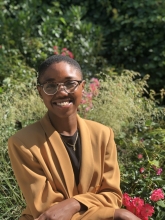 Ph.D. Student, Africana Studies
BA in American Studies and Women, Gender, and Sexuality Studies at Colby College as a Posse Scholar. 
From the Bronx, New York, Bonnie critically examined power and the political landscape of New York City as a Coro Fellow in Public Affairs. Prior to pursuing her Ph.D at UPenn she worked as a Trainer for the Posse Foundation, where recruited young leaders to attend colleges and universities across the country and supported them through their collegiate careers. Centering on collective care and the power of community, she facilitated workshops on identity, power, and communication so that students may claim space and be empowered to catalyze change at predominantly and intentionally white institutions.
Bonnie's research seeks to understand how food and taste offers glimpses into understanding belonging, blackness, gender, and sexuality in the Dominican Republic, Dominican history, national memory, and transnational identity (specifically in the United States) after the 20th century. She is interested in Black Dominican Americans' understanding of self and the intentional erasure of diasporic traditions and memory with diasporic food serving as a source of resistance.
Email
Term: