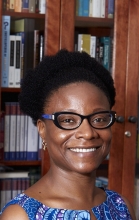 The Presidential Penn Compact Associate Professor of Africana Studies
Keisha-Khan Y. Perry (Ph.D., University of Texas at Austin, Anthropology, 2005) is Associate Professor of Africana Studies and specializes in the critical study of race, gender, and politics in the Americas with a particular focus on black women's activism, urban geography and questions of citizenship, feminist theories, intellectual history and disciplinary formations, and the interrelationship between scholarship, pedagogy, and political engagement. She has conducted extensive research in Mexico, Jamaica, Belize, Brazil, Argentina, and the United States.

Professor Perry recently completed Black Women against the Land Grab: The Fight for Racial Justice in Brazil which is an ethnographic study of black women's activism in Brazilian cities. The book examines their participation and leadership in neighborhood associations and how and in what ways their interpretations of racial and gender identities intersect with urban spaces. She is currently writing Anthropology for Liberation: Research, Writing and Teaching for Social Justice while working on two other research projects. She is engaged in a study which documents and analyzes the historical paradox of citizenship and black land ownership and loss in Brazil, Jamaica, and the United States. She is also working on a multi-lingual and transnational exploration of black women's political work in Latin America by critically examining how black women mobilize political movements across borders and how they understand themselves as agents in creating a diasporic community.
Email
Website