CLALSIS
Tuesday, April 19, 2022 - 12:00pm
473 McNeil Building, 3718 Locust Walk
RSVP here if you plan to attend in person.
If you can't join in person, please RSVP for Zoom.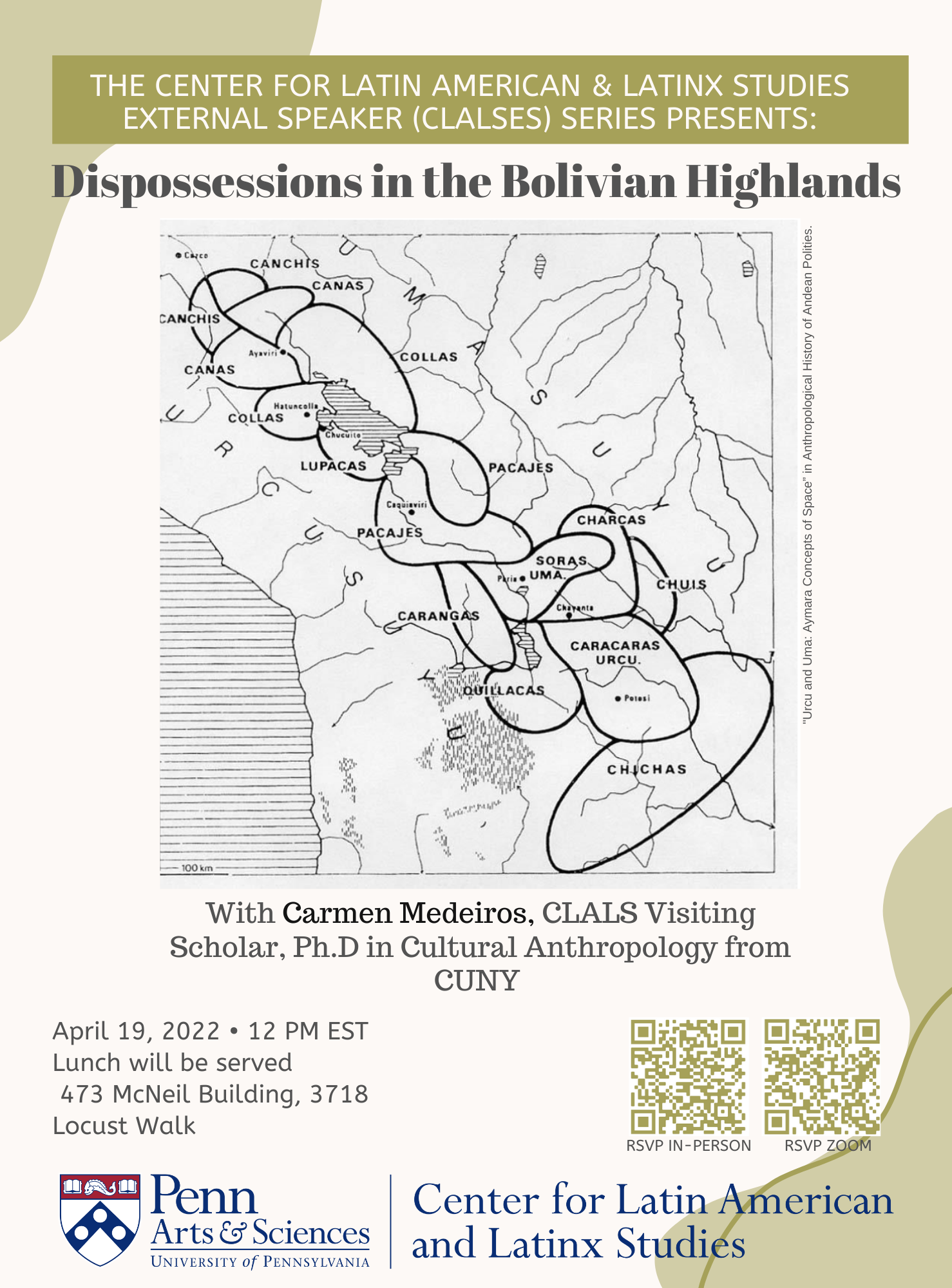 Join us and our speaker Carmen Medeiros who will present "Dispossesions in the Bolivian Highlands". Please feel free to read ahead the text, following this link.
ABSTRACT:
Histories of dispossessions during the European colonial expansion vary greatly according to the moment of the colonial encounter, the interests and conditions of the colonizers, and the type of society the colonizers encountered. While these are not the only factors shaping those histories, they can provide us with a general framework to analyze the specificities and differences of those histories.  This presentation will focus on Spanish colonization of the southern district of the Inca state during Potosi's silver mining boom (16th – 17th centuries), will examine the different forms dispossessions can take when colonizers seek to use indigenous labor and appropriate the surplus produced by indigenous state societies, and discuss some of the historical implications. Our aim is to contribute to the conceptualization of different types of dispossessions and to a more historically nuanced understanding of the different forms indigenous struggles can take nowadays.   
Carmen Medeiros holds a PhD in cultural anthropology from the City University of New York (2005) and specializes in Latin America with particular emphasis on the anthropological critique of development and modernity / coloniality; struggles for citizenship and modern discourses on race and mestizaje; and feminist theory and postcolonial debates.
For the last seven, Dr. Medeiros has been traveling faculty at the International Honors Program. During this period she had the opportunity of teaching and researching in a variety of cities, including Buenos Aires, Sao Paulo, in addition to cities in South Africa, Senegal, India and Vietnam. Dr. Medeiros taught at NYU´s Center for Latin American and Caribbean Studies in New York; the Facultad Latinoamericana de Ciencias Sociales  (FLACSO) in Ecuador; the Trent University in Ecuador Program; Wheaton College in Massachusetts; and the City University of New York. In addition, she has been academic director of the SIT Study Abroad program in La Paz ("Bolivia: Latin American Revolutionary Movements and Conflict Resolution."). She has also been a consultant with Bolivian research centers and international development agencies. She currently resides in La Paz, Bolivia and divides her time between teaching as visiting professor at the graduate institute for development research (CIDES–UMSA) and continuing her research on the intersection of coloniality and development in the context of the 'proceso de cambio' in Bolivia.