Tuesday, April 21, 2020 - 11:00am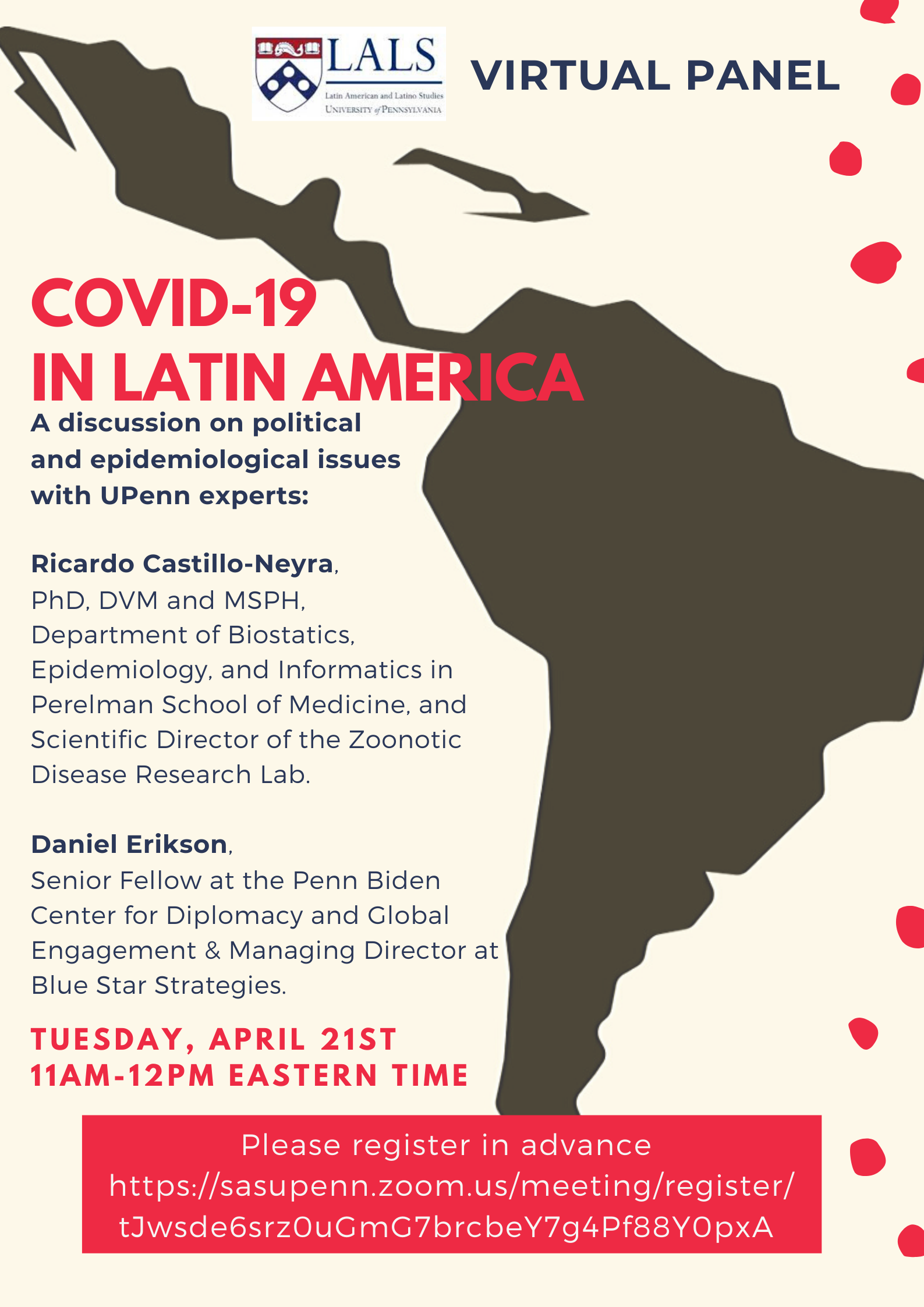 Please join us Apr 21, 2020 11:00 AM Eastern Time (US and Canada) for a virtual panel:
COVID-19 in Latin America: Discussing the Political and Epidemiological Responses.
 Sponsored by Latin American and Latino Studies at the University of Pennsylvania
Tuesday, April 21st at 11am-12pm
Panelists:
Ricardo Castillo-Neyra, PhD, DVM, MSPH
Dr. Ricardo Castillo is an epidemiologist and veterinarian. Since 2006 he has studied diseases transmitted from animals to humans, and most of his projects are based in Peru. Ricardo is especially interested in the social and ecological drivers of infectious disease emergence and persistence in cities. He has worked on Chagas disease, porcine cysticercosis, and other tropical diseases, and his most recent line of research focuses on urban canine rabies. He collaborates with the Ministry of Health and local health offices to understand the drivers of outbreaks and design control programs. His methodological interests include the optimization of interventions to control infectious disease and the design of community-based studies.
Daniel P. Erikson,
Managing Director at Blue Star Strategies, LLC, where he leads the firm's Latin America practice advising U.S. corporations across Latin America and the Caribbean and Latin American businesses on building international partnerships. He is also a Senior Fellow at the Penn Biden Center for Diplomacy and Global Engagement.
After registering, you will receive a confirmation email containing information about joining the meeting.