Monday, October 9, 2023 - 12:00pm
Penn Museum - Room 345
3260 South St, Philadelphia PA 19104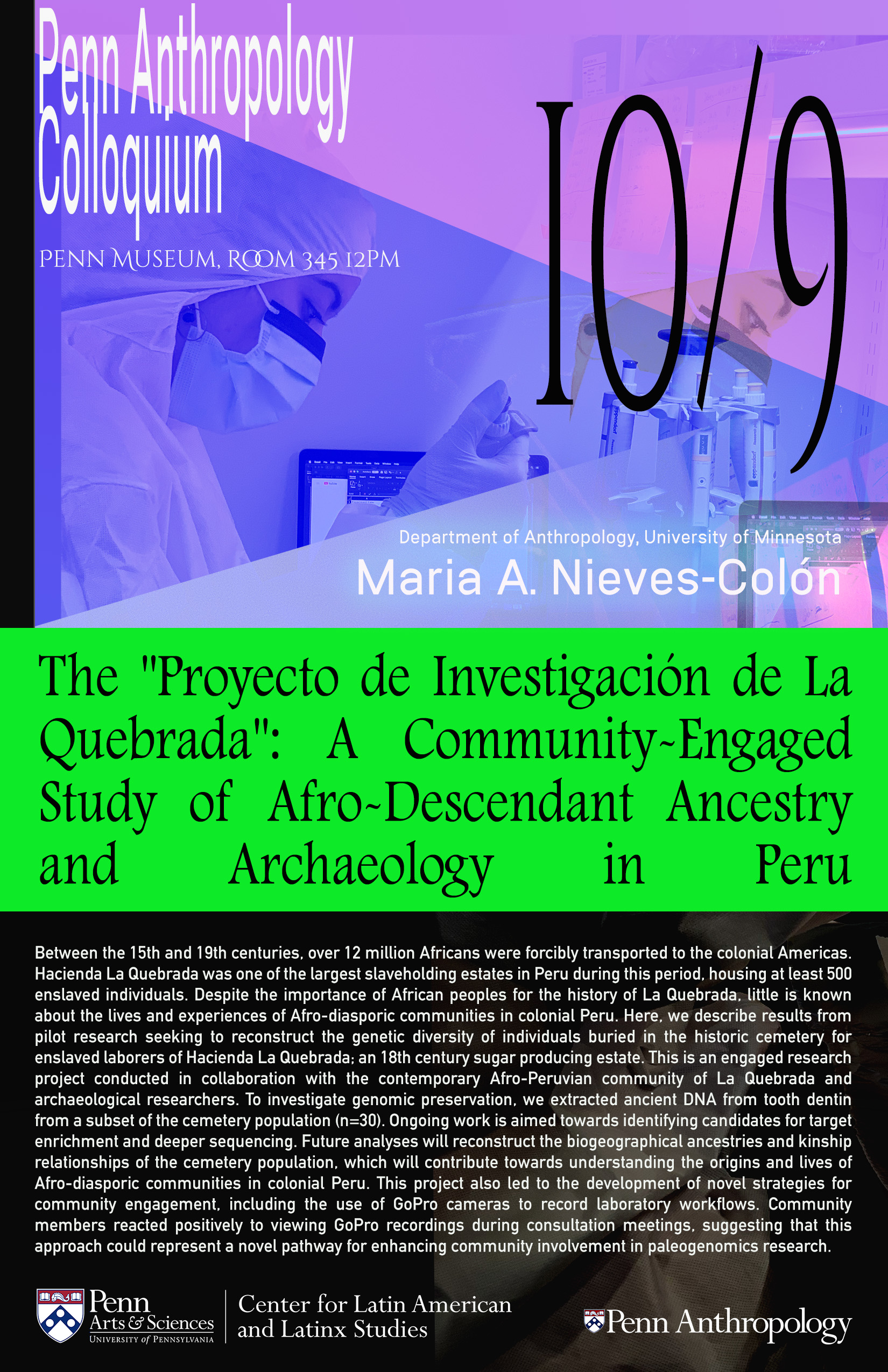 On October 9th, Penn's Department of Anthropology will host Professor Maria Nieves Colón (Department of Anthropology, University Minnesota) for a colloquium entitled "The 'Proyecto de Investigación de La Quebrada': A community-engaged study of afro-descendant ancestry and archaeology in Peru."  
This event is co-sponsored by the Center for Latin American and Latinx Studies.
Abstract:
Between the 15th and 19th centuries, over 12 million Africans were forcibly transported to the colonial Americas. Hacienda La Quebrada was one of the largest slaveholding estates in Peru during this period, housing at least 500 enslaved individuals. Despite the importance of African peoples for the history of La Quebrada, little is known about the lives and experiences of Afro-diasporic communities in colonial Peru. Here, we describe results from pilot research seeking to reconstruct the genetic diversity of individuals buried in the historic cemetery for enslaved laborers of Hacienda La Quebrada; an 18th century sugar producing estate. This is an engaged research project conducted in collaboration with the contemporary Afro-Peruvian community of La Quebrada and archaeological researchers. To investigate genomic preservation, we extracted ancient DNA from tooth dentin from a subset of the cemetery population (n=30). Ongoing work is aimed towards identifying candidates for target enrichment and deeper sequencing. Future analyses will reconstruct the biogeographical ancestries and kinship relationships of the cemetery population, which will contribute towards understanding the origins and lives of Afro-diasporic communities in colonial Peru. This project also led to the development of novel strategies for community engagement, including the use of GoPro cameras to record laboratory workflows. Community members reacted positively to viewing GoPro recordings during consultation meetings, suggesting that this approach could represent a novel pathway for enhancing community involvement in paleogenomics research.