CLALSES
Thursday, March 31, 2022 -

3:30pm

to

5:00pm
In-person: 473 COnferencer Room, McNeil Building, 3718 Locust Walk.
Open to the Penn community by Zoom. RSVP.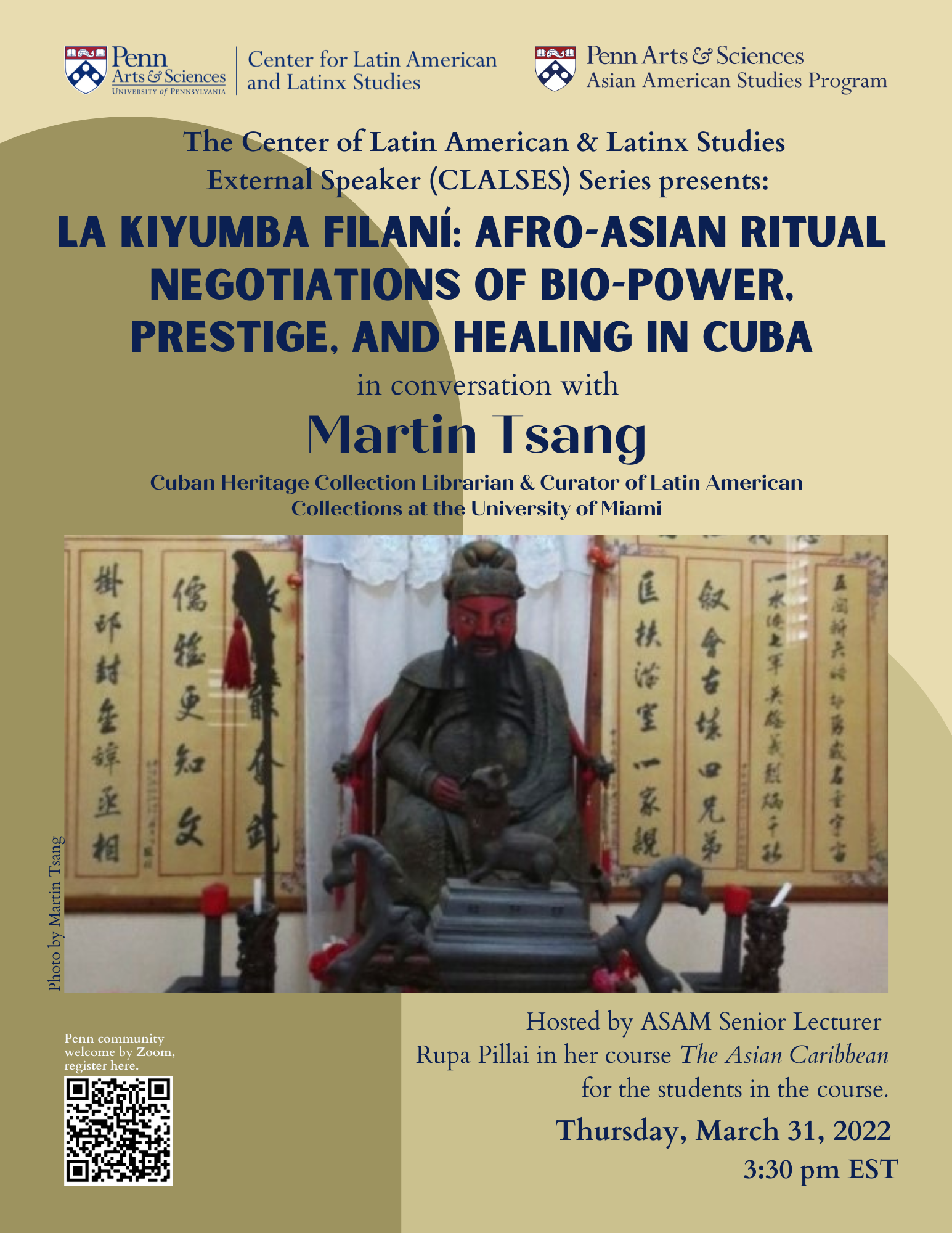 You are welcome to join our guest speaker: Dr. Martin Tsang, cultural anthropologist who has researched, taught, and published widely on Asian ethnicity, culture, healthcare, and religion in the Caribbean and in great depth with respect to Cuba. Martin is the Cuban Heritage Collection Librarian, overseeing print and digital resources for the largest collection of materials on Cuba and its people located outside of the island. He is also Curator of Latin American Collections at the University of Miami and has a secondary teaching appointment with the Department of Anthropology and also teaches for the Department of Religious Studies.
Hosted by ASAM Senior Lecturer Rupa Pillai in her course The Asian Caribbean.
Abstract
The study of Afro-Cuban religiosity, especially the ritual practices of Yoruba- and Kongo-derived practices that developed in Cuba has largely ignored the presence of Chinese materiality, philosophy, and persons stemming from mid 19th century Chinese indenture on the island. I explore the historical negotiations of the Chinese or Filaní as powerful racialized tropes of power and agency in ritual contexts. I explore how contemporary practices and specifically the. claiming of sinalidad, a type of Chineseness that is described as a power contained within body surfaces in Afro-Atlantic practices. I highlight how notions of power, exclusion, and healing are mapped to healing practices of communicable diseases at the hands of Afro-Chinese priests that is apropos to the current moment.