Thursday, March 30, 2023 - 6:00pm
to
Wednesday, May 10, 2023 - 6:00pm
Kelly Writers House
3805 Locust Walk
Philadelphia, PA 19104
Registration details, here.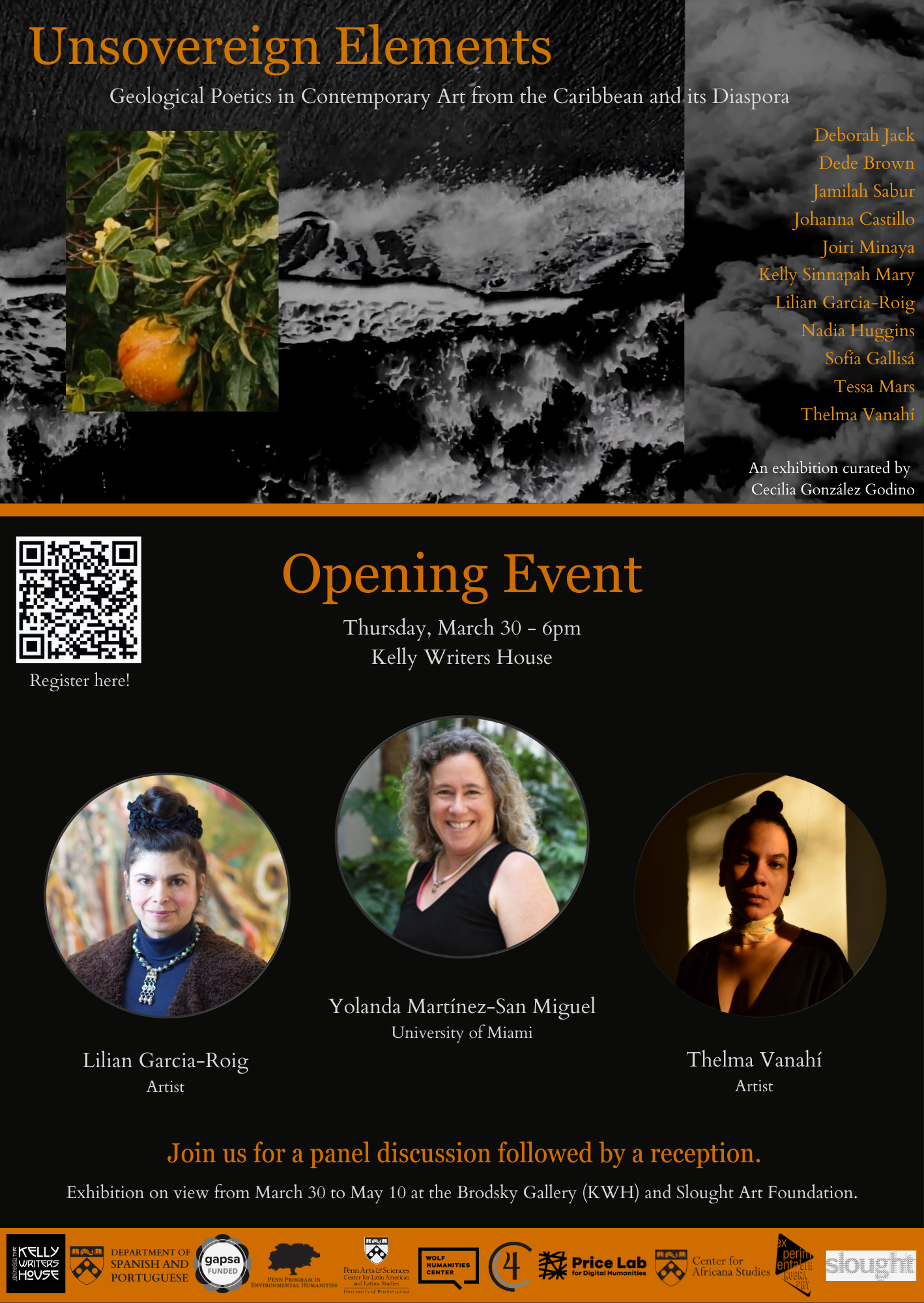 Opening of Unsovereign Elements, a group exhibition curated by Cecilia González Godino. Featuring artists from the Caribbean and its diaspora, this exhibition examines the ambiguous role of geological elements in the (re)production of the archipelago--certainly exhausted by modernity as discursive instruments, yet always retaining a poetic potential that far exceeds their materiality.
Come meet the artists in conversation, followed by a curatorial tour and reception! This event is free and open to the public. 
*Curatorial note:
Caribbean cultural products and critical approaches are highly permeated by submarine, geological and atmospheric aesthetics, at times placed at the core of its identity and at times articulated as present and potential catastrophic obstacles to its "development". Starting with colonization and the invention of the Americas, geological elements were relegated—and still seem to be—to a fossilized backdrop status, which contributed to the traditional and utterly colonial image of the archipelago as a linguistically, geopolitically fragmented entity, even though archipelagos naturally resist colonial attempts of apprehension, comprehension and figuration. That said, Caribbean landscape exists and persists in the tension emerging from human history and historiography, the material world, and the colonial logic of conquest of both bodies and natural environments.  
This exhibition will feature contemporary Caribbean artists whose visionsrearticulate the always-recurring tropes of history, nature, disaster, and catastrophe by claiming that geological elements share what Édouard Glissant formulated as the colonized's right to opacity: seas, jungles, islands, hurricanes, rocks, sediments, and currents have been used as discursive and textual colonial instruments, but have also retained a potential for the construction of "other" meanings through the analysis of their poetic excess. 
Geological elements were always-already defined and configured by modernity and coloniality as epistemological vacuums whose sole purpose was to be traversed, extracted from and used as commodities. In other words, to be physically and epistemologically territorialized. However, hurricanes, currents, and other phenomena are inapprehensible totalities that extend far beyond their materiality and beyond binary formulations of human-nature relations; they resist Caribbean's political suspension, subcontract, usurpation, and imposition dynamics, as well as the colonial need of apprehension, figuration and localization. 
That said, drawing from Yarimar Bonilla's formulations, geological elements act as unsovereign historical entities insofar they are non-codifying and non-figurative entities that function as both producers, products and evaders of colonial logics. In this sense, geological elements always-already inhabit the periphery/the contours of narratives of independence, statehood and colony, and it is precisely through their unsovereign status and their inherent, indefinite postponement of completion that the use of geological aesthetics allows for multiple futurities, calls for an unaccounted history and reclaims the contemporaneity and presence in history of "other", counter-hegemonical entities. The exhibition will address how the allegorical and aesthetical use of geological elements effectively sutures the rift between history and nature by bringing to the forefront of the representational act the double bind of the processes of historical production. 
Caribbean traditional historiography seems to absorb and to ossify its geological surroundings, which entails significant material, archival, and epistemological consequences. Thus, by subverting this movement and allowing the geological elements and phenomena to engulf the colonial history of the archipelago, these artists engage in an "other" form of historiography that shifts from a linear, anthropocentric and logocentric perspective to embrace a geological, ecocritical structure arising from Elizabeth DeLoughrey's notion of "archipelagraphy": a rhizomatic approach to history, always (dis)structured around non-colonial, geo-epistemic logics that force multiple, disoriented forms of temporality and spatiality. 
In conclusion, to decolonize and to deconstruct the way in which these elements are conceptualized and to revalorize their poetic potential not only would integrate them as a constituent part of history, but would allow for a geological, non-anthropocentric, non-linear account of Caribbean history.