CLALSIS
Friday, September 22, 2023 - 12:00pm
Forum, 2nd Floor, Ronald O. Perelman Center for Political Science and Economics, 133 S. 36th Street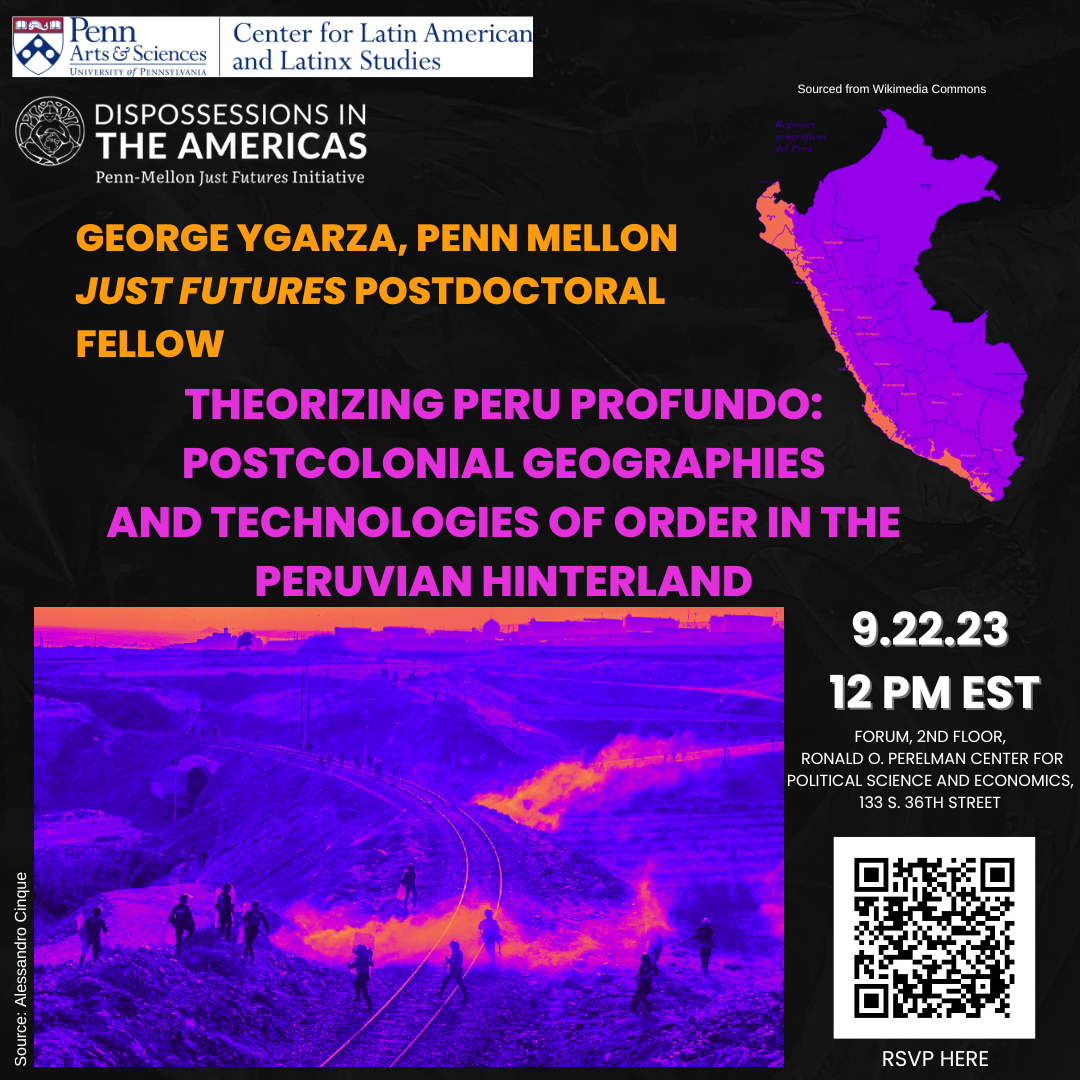 RSVP HERE to attend in person
RSVP HERE to attend on Zoom.
Abstract:
For centuries, the territory known as Peru has been defined by its position as a critical node of the global extractivist geography. The logics that enact these geographies tend to be obscured by national discourses of development. Contributing to the growing transdisciplinary, post-/de-/settler-colonial approaches to studying the Latin American condition, this presentation is based on a working paper that takes up a critical analysis of Peru's historical hinterland in relation to the making of national and global geographies of extractivism. It appropriates and displaces the historical reading of the underdeveloped interior—Peru Profundo­—in order to pull out the colonial continuities in the contemporary nation-state. In particular, it examines the relocation of Andean communities as a technology of order that is conducted under the same logics of the reductions that were carried out during the vice regency of Peru.
Presenter Bio:
George Ygarza is a first-generation scholar, popular educator and organic researcher. He completed his PhD in Global Studies from the University of California, Santa Barbara, specializing in politics and culture. For his dissertation research, George spent several months working with communities resisting mining and the expansion of extractive zones in the southern Andes. George's original research questions drew from his training in political science, seeking to understand how the political domain could be amplified to include the concerns and issues of campesino and Indigenous people. Initially setting out to investigate contemporary anti-mining resistance in Espinar, Peru, George's dissertation ultimately ended up being a critical counter-reading of the Peruvian state. At this point he inverted his subject of study, moving away from examining the struggles of residents in this southern Peruvian rural mining town in the department of Cusco, to interrogating the state and the terms and conditions of its polity. George's latest work returns to understanding the politics of refusal against mining in Espinar and beyond.