CLALSES
Wednesday, April 20, 2022 - 10:00am
Hybrid event.
RSVP In-person, here: 473 Conference Room,  McNeil Building, 3718 Locust Walk.
RSVP Zoom, here.
Co-sponsored by Perry World House.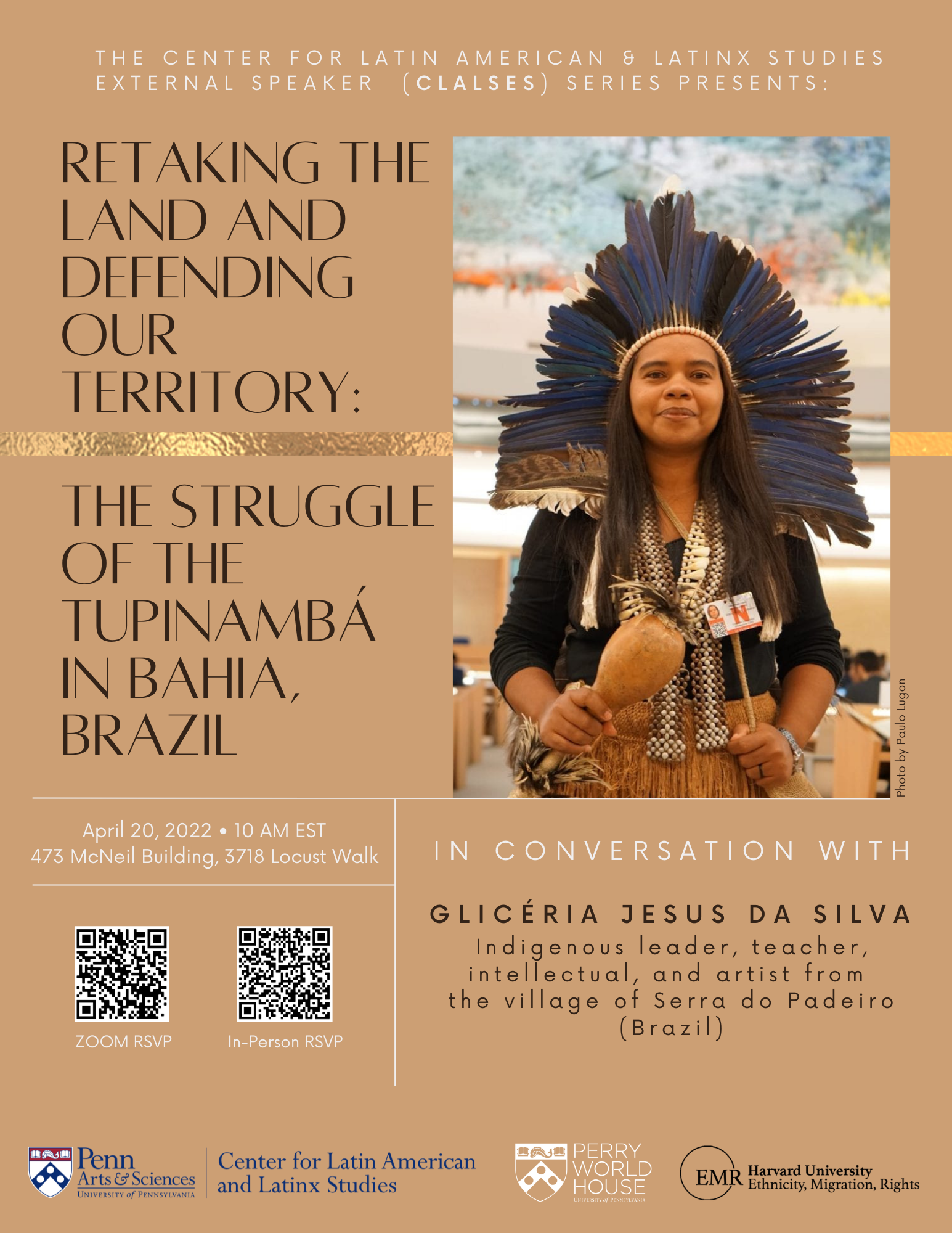 Retaking the land and defending our territory: the struggle of the Tupinambá in Bahia, Brazil
This lecture focuses on the contemporary mobilization of the Tupinambá of Serra do Padeiro (Tupinambá de Olivença Indigenous Territory, southern Bahia, Brazil). Despite being heavily targeted by criminalization, paramilitary attacks, and police brutality, since 2004, we have used direct action to recover a significant portion of our territory. From the end of the 19th century onwards, our land had been turned by non-Indians into cocoa farms and resorts. Even though the Brazilian State has failed to fulfill its constitutional duty, and the demarcation of our territory has not yet been completed, our community has regained possession of around 75% of our land and become widely known for our successful strategies. Rooted in our territory, engaged in the Indigenous movement, and connected to both our ancestors and the encantados, we have forged ways of living well in one of the few remaining patches of the Atlantic Forest.
Glicéria Jesus da Silva (Célia Tupinambá) is an Indigenous leader, teacher, intellectual and artist from the village of Serra do Padeiro, located in the Tupinambá de Olivença Indigenous Territory (southern Bahia, Northeastern Brazil), in the Atlantic Forest. Her research focuses on the contemporary efforts of the Tupinambá to recover their language and aspects of their material culture, intertwined with their fight for land. More specifically, she investigates the connections between the remaining capes of scarlet ibis feathers produced by the Tupinambá during the 16th and 17th centuries – all of which are currently kept in European museums –, the Old Tupi language and the production of contemporary capes, in the framework of the territorial recovery.