CLALSIS
Tuesday, May 4, 2021 - 12:00pm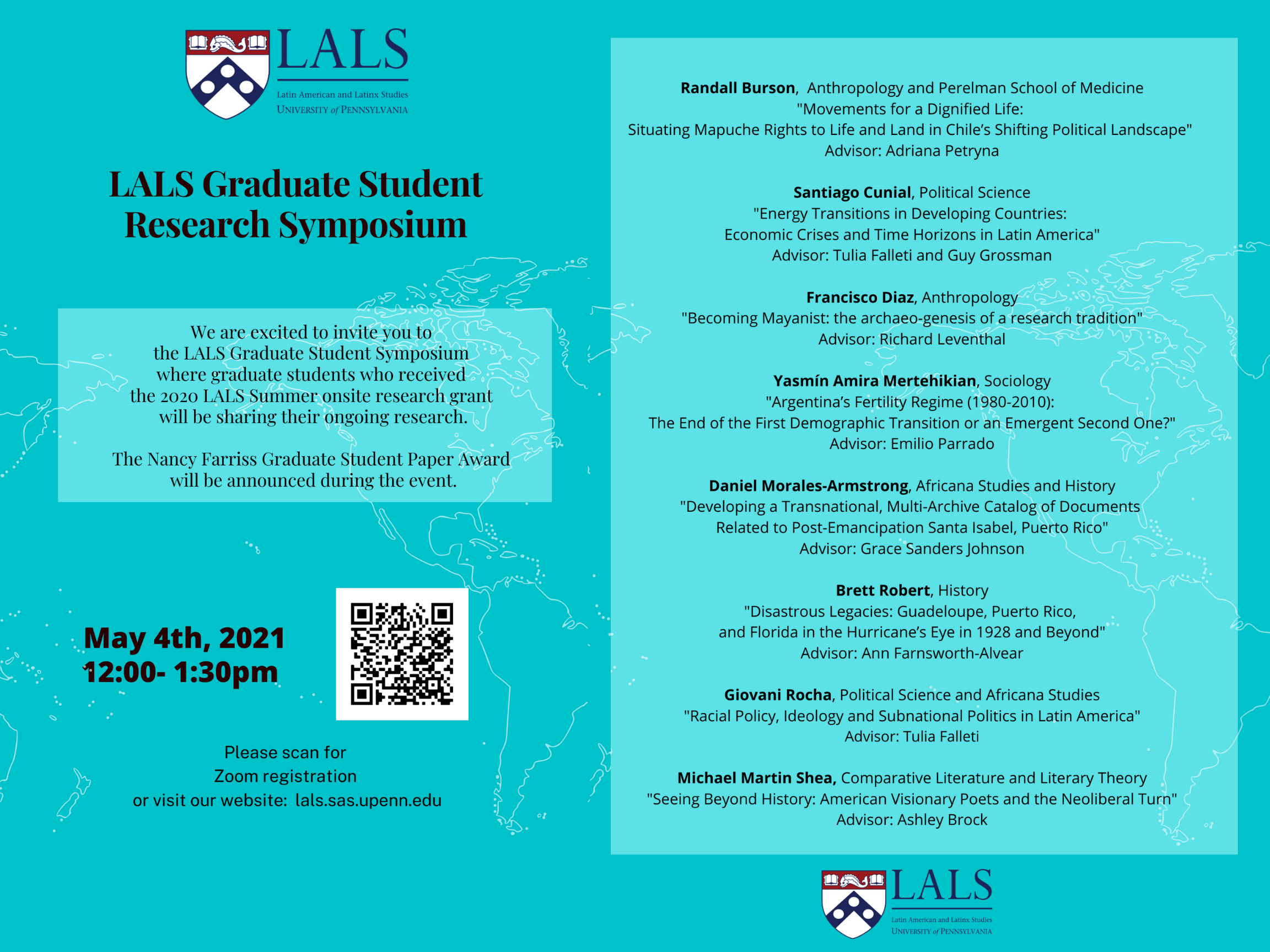 2021 Graduate Student Research Symposium - May 4, 2021
Participant Bios  
Randall Burson
MD-PhD Student, Department of Anthropology
Randall.Burson@pennmedicine.upenn.edu
Twitter: @RandyBurson2
Randy is an MD-PhD student in Anthropology situated at the intersections between anthropology and health services research. His research focuses on how health policy, medical practice, and scientific evidence are used to separate health as domain distinct from life, and how patients and providers navigate, challenge, and repair these separations in contexts of political, social, and environmental conflict. His current ethnographic fieldwork, situated in Southern Chile, focuses on how biomedical practitioners and indigenous Mapuche healers/leaders care for Mapuche patients in the context of territorial struggle, police violence, and the growing movement for plurinationality.
Santiago Cunial
PhD Candidate, Department of Political Science
Twitter: @slcunial
Santiago Cunial is currently a PhD candidate in political science at the University of Pennsylvania, where he works on the political drivers towards energy transitions in developing countries, with a focus on Latin America. His research aims to explain how policy legacies, partisanship, and electoral cycles affect the adoption and effectiveness of policies that aim to decarbonize the electricity sector. Before coming to UPenn, he did an MA in Political Science at Universidad Torcuato Di Tella and a BA in Political Science at Universidad de Buenos Aires, both in Argentina. In Argentina, Santiago did research on health politics and worked for several national and international agencies. 
Francisco Diaz
PhD Candidate, Department of Anthropology
Francisco is a fourth year PhD candidate at the University of Pennsylvania. His work delves into the colonial history of anthropological and archaeological thought as it is located in the study of Maya people past and present. Taking a decolonial ethnographic reading of the archival work by early Mayanist scholars, his research seeks to challenge the persistent coloniality in Maya heritage production by critically reassessing early Mayanist thought. Francisco's work is informed by his background participating in the Penn Cultural Heritage Center's Tihosuco Heritage Preservation and Community Project, his continuous engagement with contemporary Maya communities in Yucatan and the San Francisco Bay Area, and his father and grandmother's stories about growing up in the rural regions of the Yucatan Peninsula.
Yasmín Mertehikian
PhD student,  Sociology Department
Yasmín Mertehikian is a third-year PhD student in Sociology at the University of Pennsylvania, where she also holds an MA in Sociology. Before coming to Penn, she did an MA in Social Sciences at Universidad Nacional de General Sarmiento and a BA in Sociology at Universidad de Buenos Aires, both in Argentina. Mertehikian has been studying the social determinants of fertility in Argentina from a gender perspective. Specifically, she has been analyzing how individual and household characteristics influence women's decisions on fertility, and how provincial characteristics and regional inequalities affect them. Her dissertation proposal will analyze women's status in Latin America in terms of access to the labor market, educational attainment, and fertility. 
Daniel Morales-Armstrong 
PhD Student, Departments of History and Africana Studies 
I am a joint PhD student in History and Africana Studies. Prior to Penn, I served as an adolescent educator in Washington Heights and The Bronx, where I taught Black Latin American history and led international initiatives to research, analyze, and tell our own personal, community, and Afro-Caribbean histories. These experiences inform my approach to history: considering whose voices, histories, and narratives prevail, and whose are plagued by silences. At Penn, my work interrogates those silences within Black Puerto Rican history. My research focuses on slavery, emancipation and unfreedom in 19th century Puerto Rico, particularly as related to the post-emancipation labor contracting system. This includes significant considerations about the limitations inherent in colonial archives - from the racial, gendered and classed paradigms that distort mis/representations of enslaved people's lives, to the elaborate efforts of Spanish colonial officials to sanitize the history of emancipation on the island. In addition to my doctoral research, much of my academic service at Penn is dedicated to honoring the diverse iterations, and histories, of Black life in the hemisphere. To that end, I am part of an interdisciplinary cadre of Penn faculty and students working to expand the University's scholarship and programming engaging Black communities in Latin America. As a public historian, I have presented my work through in-person and virtual events in secondary schools, university courses, conferences, and community bookstores.
Brett Robert 
PhD Candidate, Department of History
Brett Robert is a PhD Candidate in the History Department at the University of Pennsylvania. His dissertation explores how the legacies of colonialism and slavery were implicated in the September 1928 hurricane known by many names that swept through the Caribbean as well as investigating the memory of this disaster in the communities affected by it. The project combines his interests as a historian in transnational or translocal history, the cultural history of science, historical memory, and history in art and literature. Before attending the University of Pennsylvania he began his studies at Santa Rosa Junior College before earning bachelor's at Sonoma State University and a master's at California State University Northridge, both degrees in history. Outside of academia, he has been a lifelong student of movement having formally studied several styles of dance including ballet, modern, and salsa, a variety of martial arts including tae kwon do and Brazilian jiu jitsu, and spent several years professionally coaching both parkour and gymnastics. 
Giovani Rocha
PhD Student, Department of Political Science and Africana Studies
Giovani Rocha is a graduate student in the Joint PhD in Political Science and Africana Studies at the University of Pennsylvania. He holds a Masters in Government, Institutions and Public Policy from Fundação Getúlio Vargas in Brazil and a BA in Economics from the Brazilian Institute of Markets and Capitals (IBMEC-RJ). Prior to starting his graduate studies at Penn, Giovani worked in Brazil with education policy implementation at the local and federal levels and was a consultant to the Inter-American Development Bank and the World Bank. His research interests involve the intersection of politics, black activism and antiracist policies in Latin American countries, with a particular interest in Brazil, Colombia, Peru, and Uruguay.
Michael Martin Shea
PhD Candidate, Comparative Literature and Literary Theory
Michael Martin Shea is a doctoral candidate in Comparative Literature and Literary Theory whose research centers on US and Latin American poetry and poetics in the 20th and 21st centuries. His dissertation, Neoliberal Visions: Crisis Landscapes and Poetic Sight, examines the figure of the visionary poet as it appears across the hemisphere in the 1970s and 1980s in response to the neoliberal turn. His critical writing is forthcoming in a special issue of Cultural Dynamics on "Neoliberalism in the Americas," and his poetry, essays, and reviews have appeared widely in such venues as ASAP/J, Conjunctions, Fence, Jubilat, Pleiades, and elsewhere. A former Fulbright Fellow to Argentina, he is the translator of the Argentine poet and writer Liliana Ponce; a bilingual chapbook, Diario/Diary, was published by Ugly Duckling Presse in 2018. He is also a Series Editor for the Best American Experimental Writing anthology, published by Wesleyan University Press.