Monday, January 24, 2022 - 4:00pm
This event will be on Zoom, join here.
Meeting ID: 935 6989 4889
Passcode: 012422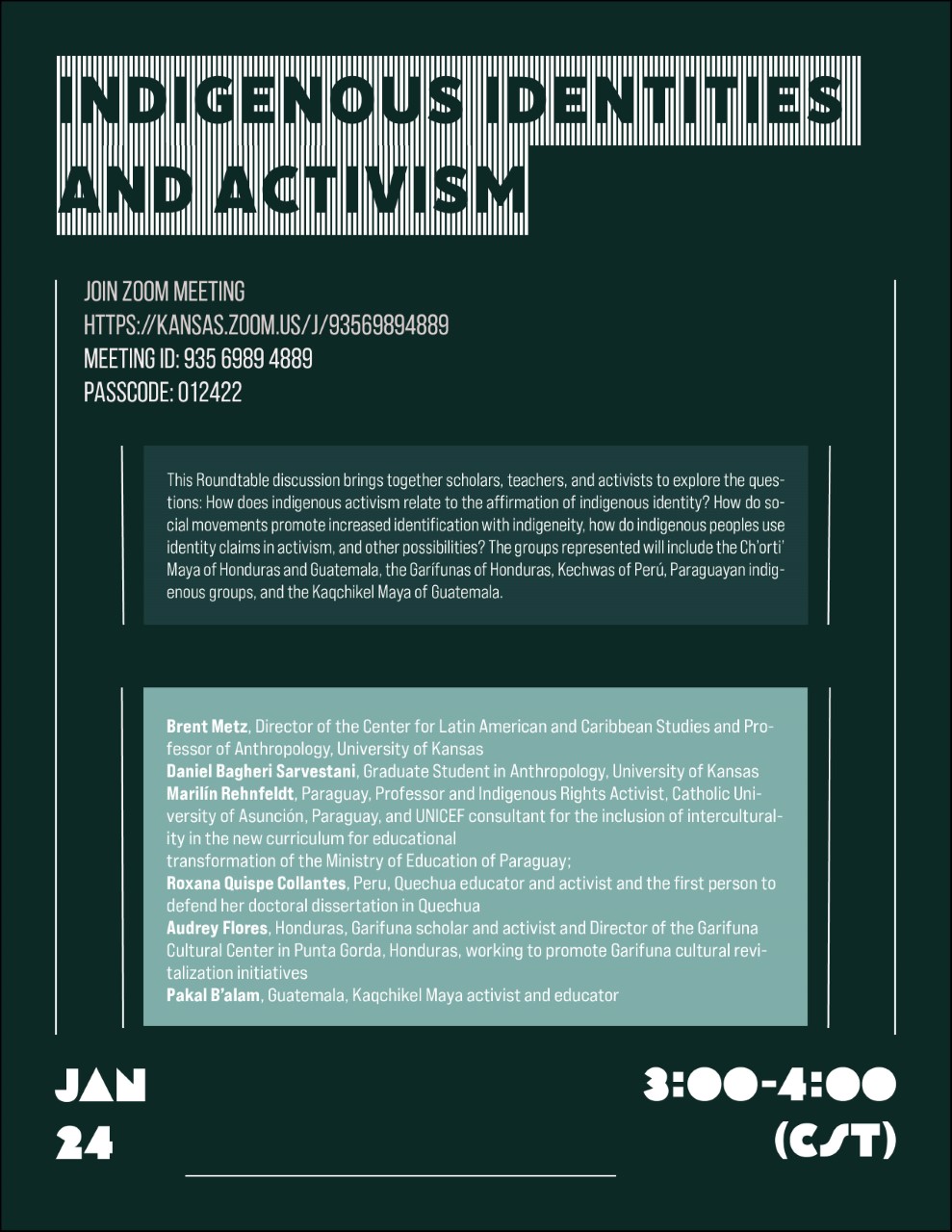 Please join us at 4 PM EST (9 pm GMT) on January 24th for the fourth installment of the LASA Center Director Section Series on Indigeneity, Afro-descendants, and other marginalized populations in Latin America.
This Roundtable discussion brings together scholars, teachers, and activists to explore the questions: How does indigenous activism relate to the affirmation of indigenous identity? How do social movements promote increased identification with indigeneity, how do indigenous peoples use identity claims in activism, and other possibilities? Areas covered will include the Ch'orti' Maya in Guatemala, the Garifuna in Honduras, Quechua-speaking peoples of Peru, and Guaraní education activists in Paraguay.
Brent Metz, Director of the Center for Latin American and Caribbean Studies and Professor of Anthropology, University of Kansas.
Daniel Bagheri Sarvestani, Graduate Student in Anthropology, University of Kansas.
Marilín Rehnfeldt, Paraguay, Professor and Indigenous Rights Activist, Catholic University of Asunción, Paraguay, and UNICEF consultant for the inclusion of interculturality in the new curriculum for educational transformation of the Ministry of Education of Paraguay.
Roxana Quispe Collantes, Peru, Quechua educator and activist and the first person to defend her doctoral dissertation in Quechua.
Audrey Flores, Honduras, Garifuna scholar and activist and Director of the Garifuna Cultural Center in Punta Gorda, Honduras, working to promote Garifuna cultural revitalization initiatives.
Pakal B'alam of Guatemala, a Kaqchikel Maya language teacher, activist, and development worker. 
Hosted by Brent Metz, Director of the University of Kansas Center for Latin American and Caribbean Studies and Elizabeth Sáenz-Ackerman, Associate Director of the Stanford University CLAS.
The panel will in both English and Spanish (with a sprinkling of Quechua as well).