CLALSIS
Tuesday, October 26, 2021 - 12:00pm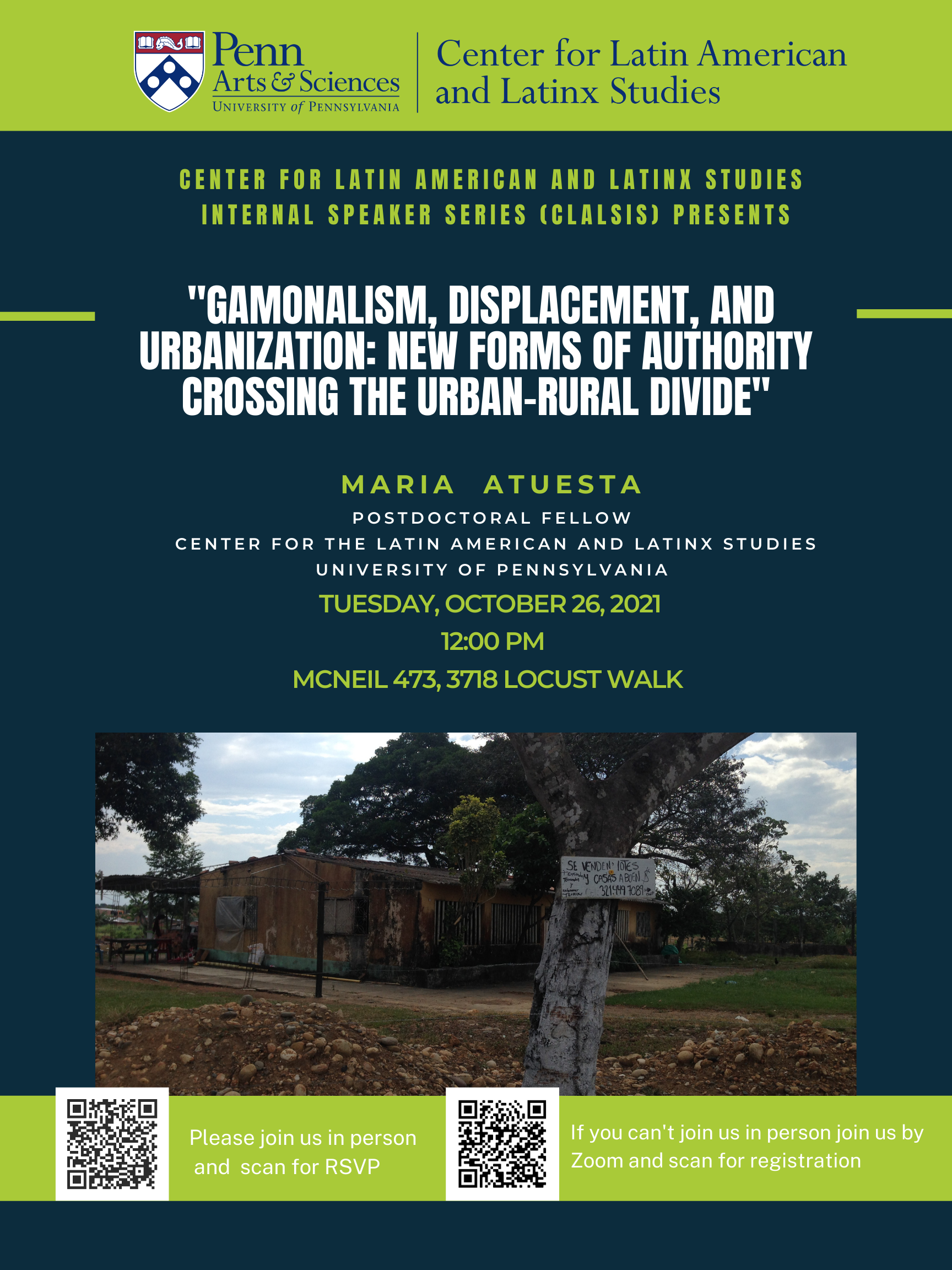 The Center of Latin American and Latinx Studies Internal Seminar Series (CLALSIS) presents: "Gamonalism, displacement, and urbanization: New forms of authority crossing the urban-rural divide" by Maria Atuesta, Postdoctoral Fellow, Center for Latin American and Latinx Studies.  
About the paper: (If you would like to read a copy of the paper, please write to clals-upenn@sas.upenn.edu.)
This paper studies the participation of village bosses in processes of city building and peripheral urbanization. Like other pirate developers in cities of the global south, local "big men" have been subdividing land and urbanizing it without legal permit. Beyond the case of pirate developers, these individuals show a unique capacity to transform cities; their built environments, as well as their social and political infrastructures. Starting with and also departing from Max Weber's classical definition of authority, the paper examines how one man can establish a new form of authority based on a unique capacity to successfully meddle through legalistic systems that impose an urban-rural divide on real estate markets. This case study takes place in Granada, a rapidly urbanizing city in Colombia that received a large wave of forced migrants between 1990-2010. I identify the consolidation of this particular type of authority as a new form of gamonalism, which has not only been transforming Granada's built environment, but has also played a unique role in the reproduction of violence and inequality in the city and the region. I argue that we need to pay more attention to this particular authority and its role in city building, to understand new challenges in the reproduction of violence and inequality in different cities of the global south.
Maria is a Postdoctoral Fellow at the UPenn Center for Latin American and Latinx Studies. She has a PhD in Urban Planning from Harvard University and a master's in city and Regional Planning from UC Berkeley. With a background in economics and history, her research explores dynamic relations between space and communities. Specifically, in her dissertation Maria studied how forced migrants accessed housing in Colombia and how this process has shaped the creation of different neighborhood communities with different claims on the city. With expertise working in policy-oriented projects for multilateral organizations, public offices, and academic research centers, Maria's research often includes policy analysis. She has studied how different policies have shaped our material and social environments with unintended consequences that have reproduced social inequality. She has been able to advance her research with support from the Fulbright program for Colombia, the Harvard Joint Center for Housing Studies, and the U.S. Institute of Peace.
Please join us in person  RSVP here!   If you would like to join us by Zoom, please register here!
All events will adhere to current university Covid-19 public health protocols.