CLALSES
Friday, April 21, 2023 -

3:00pm

to

6:30pm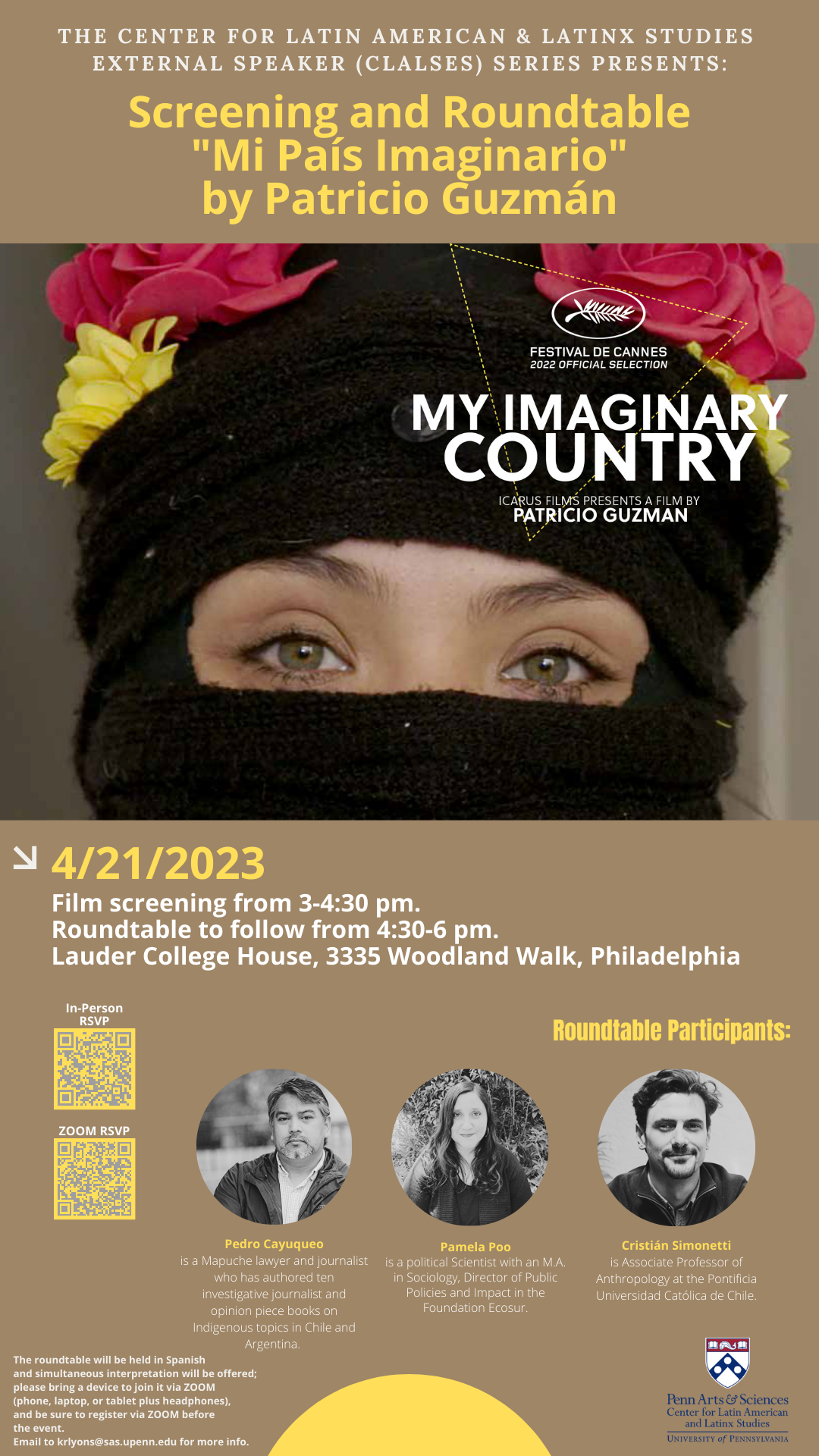 One day, without warning, a revolution exploded. It was the event that master documentarian Patricio Guzmán had been waiting for all his life: a million and a half people in the streets of Santiago, Chile, demanding justice, education, health care, and a new constitution to replace the strident rules imposed on the country during the Pinochet military dictatorship. Urgent and inspired, My Imaginary Country features harrowing front-line protest footage and interviews with dynamic activist leaders and powerfully connects Chile's complex, bloody history to contemporary revolutionary social movements and the election of a new president.
TIMELINE
On September 11, 1973, General Augusto Pinochet seized power in Chile in a U.S.-backed military coup d'etat. He remained Chile's dictator for 18 years. His reign saw the execution of between 1,200 to 3,200 people,1 the internment of as many as 80,000 people, and the torture of tens of thousands.2
Although General Pinochet was forced out in 1990, the constitution instituted under his rule remains in effect. The protest movement documented by Patricio Guzmán in My Imaginary Country transformed Chilean politics, and started the process of replacing the Pinochet-era constitution with a constitution prioritizing gender equality, indigenous rights, and climate change.
DIRECTOR'S STATEMENT 
"My last film, The Cordillera of Dreams, ended with a sequence in which I mentioned how my mother had taught me that when I saw a shooting star up in the sky, I could make a wish in my heart of hearts and that this wish would come true. In this final sequence, I said aloud that my wish was for Chile to recuperate its childhood and joy.
In October 2019, when my film came out in France, something completely unexpected happened in Chile: a revolution, a social uprising. A million and a half people marched for more democracy, for a more dignified life, better education and a better health system for all. Chile had gotten its memory back.
Since Allende, I had never seen such a thing. As in the days of Popular Unity, I heard old songs written by Víctor Jara, Los Prisioneros, and many others. They were now sung by today's Chileans. I realized that memory had been perfectly passed down and was very much alive.
Thousands of citizens marched, shouted and tagged the walls. Ordinary people. Many of them were the parents of students who were marching, retired people, former civil servants, or employees, anonymous persons. There was no leader then, there is no such thing now. We did not see any famous person.
The people marched the streets, faced the police and their water cannons. Many people lost an eye. Thousands of them were injured and thirty-two died.
But how could it be that a whole people had woken up forty-seven years after Pinochet's coup in a so-called social outburst, a major rebellion or even a revolution?
To me, it was a mystery.
So, I looked into that mystery, I filmed its effect on the atmosphere, the air, the emotions and the feelings of my fellow countrymen and women.
Fifty years after I directed The Battle of Chile, I was in the streets again, filming what was happening. I was there when the Chilean people voted for a new constitution and obtained an 80% majority in favour of a constituent assembly. I was there when a thirty-five-year-old left- wing new president, Gabriel Boric, was elected with 56% of the votes. An unprecedented event in the history of the country, my imaginary country..."
Patricio Guzmán 
Film screening from 3-4:30 pm and Roundtable to follow from 4:30-6 pm.
Roundtable Participants:
Pamela Poo is a political Scientist with an M.A. in Sociology and more than 12 years of experience working on environmental issues, including water, energy and mining in Chile. Pamela is currently the Director of Public Policies and Impact in the Foundation Ecosur and is a member of the Network of Political Scientists.
Cristián Simonetti is Associate Professor of Anthropology at the Pontificia Universidad Católica de Chile.  His research has focused on understanding the relationship between temporality and scientific knowledge production. Currently, he is working on a project to imagine the future and legal protection of glaciers in Chile, which forms part of the demands made by the social uprising of 2019-2020 and the constitutional assembly.

Pedro Cayuqueo is a Mapuche lawyer and journalist who has authored ten investigative journalist and opinion piece books on Indigenous topics in Chile and Argentina. In 2018, he was awarded the Municipal Prize for Literature in Santiago for the best nonfiction book, Historia secreta mapuche. He has also been the Mapuche delegate to the UN's Human Rights Commission, founder and director of the newspapers Azkintuwe and MapucheTimes, anchor for CNN Chile's Kulmapu program, and a columnist for The Clinic, revista Cara, and the newspapers La Tercera, and Austral de Temuco. 
The roundtable will be held in Spanish but simultaneous interpretation will be offered. Please bring a device to join the simultaneous interpretation via Zoom (phone, laptop or tablet plus headphones). If this is the case, we highly recomended you also register via zoom before the time of the event. Please review these instructions, beforehand.