TECLA
Friday, December 2, 2022 -

12:00pm

to

1:30pm
Lunch will be served
Location: 108 Arch Building, 3601 Locust Walk
Please RSVP by November 29, 2022
Zoom registration, here. 

Group Stage, Round 3, Brazil-Cameroon Soccer Match Screening: 2:00 - 4:00 PM at Arch Building 108.
Event Co-Sponsored by La Casa Latina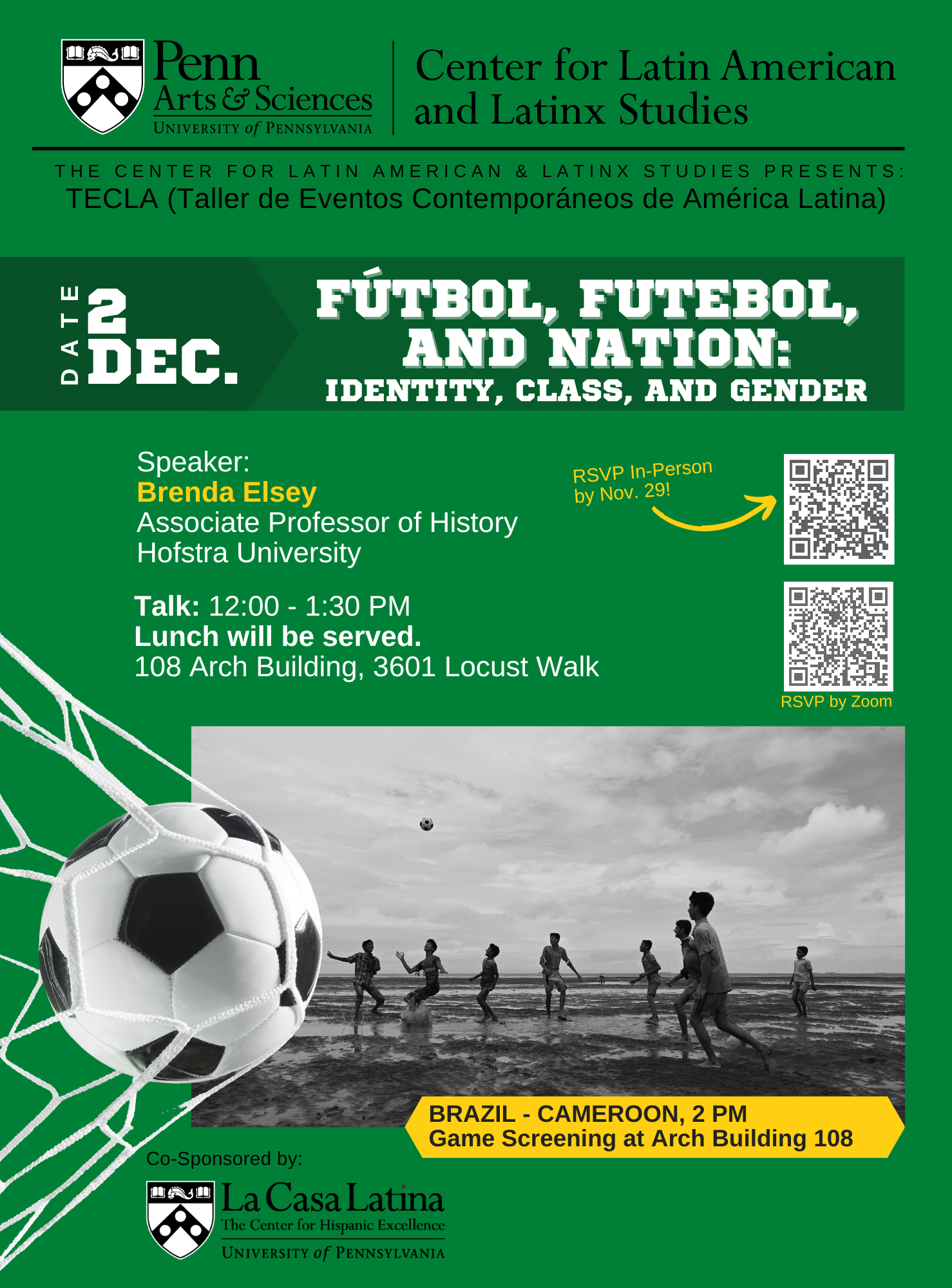 Every four years, when the World Cup is played, life takes on a different rhythm in most of Latin America. Even in countries not playing the tournament, everyday conversations revolve around the latest matches, the best players, and the most spectacular goals. Journalists, public intellectuals, and scholars have discussed how football plays a central role in Latin America at the same time that they have claimed that the sport reflects Latin American societies. For instance, Uruguayan intellectual, Eduardo Galeano, claimed that football was a mirror through which the world was reflected. The beginning of the 2022 Qatar World Cup offers an opportunity to think about Latin American society and the ways in which the sport has shaped (and reflects) national and regional identities, social class and inequality, and gender divisions. Please join us to hear Professor Brenda Elsey talk about "fútbol" and "futebol" in Latin American society.
Brenda Elsey is a professor of History at Hofstra University with a specialism in gender, politics, and popular culture in Latin America. She is the author of Citizens and Sportsmen: Fútbol and Politics in Twentieth-Century Chile and co-author with Joshua Nadel of Futbolera: A History of Women's Sport in Latin America (both University of Texas Press), co-editor of "Historicizing the Pleasure and Politics of Sport," a special issue of the Radical History Review, as well as many articles. She has also written for The Guardian, New Republic, and Sports Illustrated and co-hosts the sport and feminism podcast, Burn It All Down.
Elsey is also Development Lead in the Americas for the Fare Network, which works on anti-discrimination in global football, monitors international matches for sexism, racism, and homophobia, and develops grass-roots projects. Her current manuscript project, Losing to Win, is under contract with University of North Carolina press.