TECLA
Friday, November 4, 2022 - 12:00pm
Ronald O. Perelman Center for Political Science and Economics 2nd Floor Forum, 36th and Walnut Street.
Co-sponsored by La Casa Latina.

Hybrid event:
Zoom RSVP
In Person RSVP
If you want to join physically, but don't understand Portuguese, please bring a device to join the simultaneous translation via Zoom (phone, laptop or tablet plus headphones).
For both in-situ and remote simultaneous translation, please review these instructions.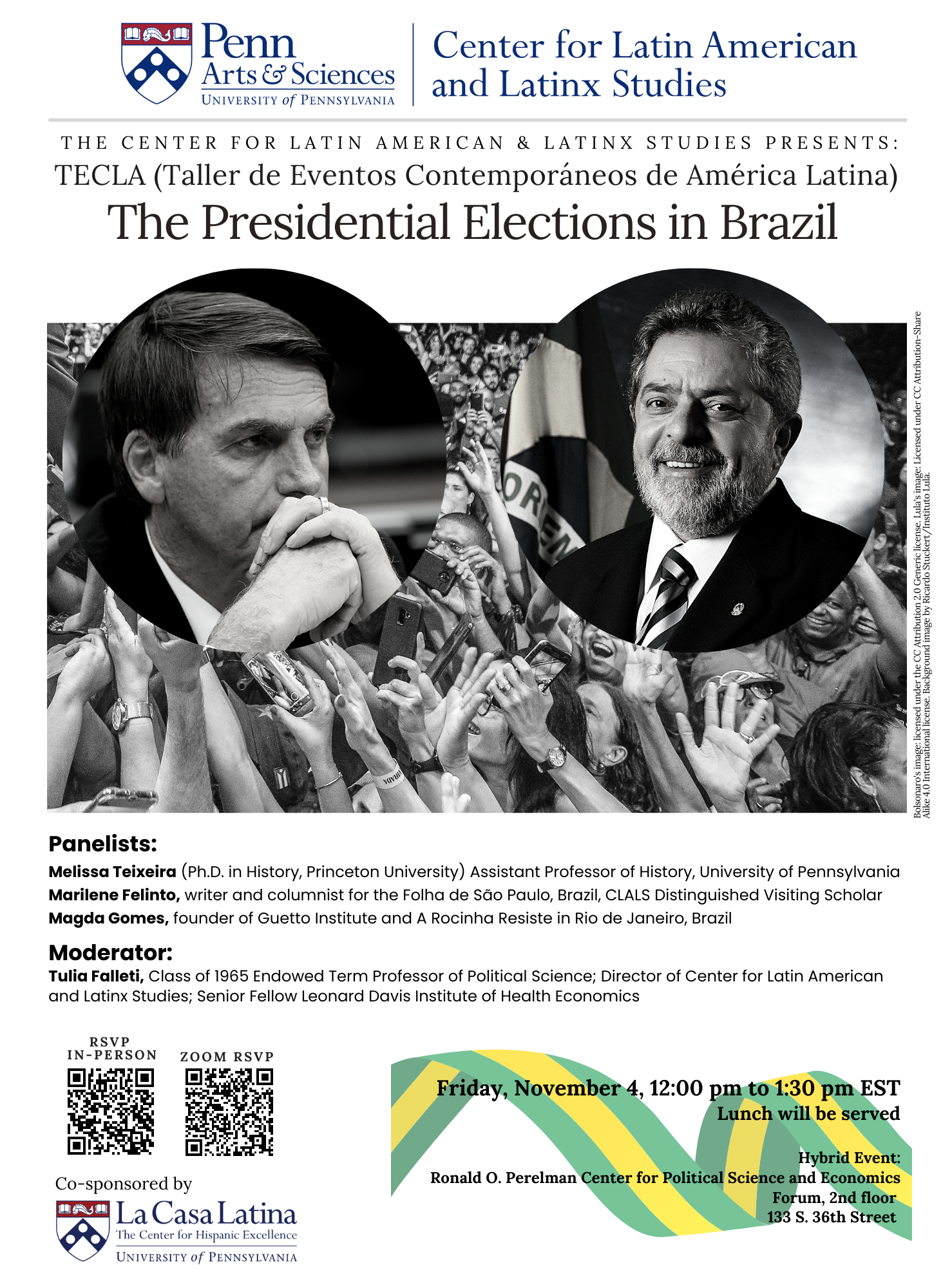 With presidential elections looming, the Brazilian populace and world are on edge, as the largest democracy in Latin America heads to the ballot box.  What implications does the outcome of the October 2nd presidential and general election (with a potential presidential run-off slated for Oct. 30th), have on the state of democracy in Brazil? Whether Jair Bolsonaro pulls ahead or Lula wins as polls are predicting, how will policy change or stay the same with the outcome? Will political polarization endure in the country? Historian and Brazilian expert Melissa Teixeira (Penn) joins CLALS Distinguished Visiting Scholar Marilene Felinto, a renowned columnist for the Folha de S. Paulo and award-winning author, and Magda Gomes, the founder of Ghetto Institute and A Rocinha Resiste in Rio de Janeiro, for this important and not-to-missed discussion on Brazilian politics.
A Discussion with Melissa Teixeira, Assistant Professor of History; Marilene Felinto, CLALS Distinguished Visiting Scholar, and Magda Gomes, Founder of the Guetto Institute and A Rocinha Resiste. 
CLALS Director Tulia Falleti will serve as the host and moderator. 
Melissa Teixeira is a historian of modern Brazil, with interest in legal history and the history of economic life. Her current book project South Atlantic Economic Lives: Remaking Capitalism and Citizenship in Twentieth-Century Brazil explores Brazil's response to the political, economic, and social crises of capitalism following the Great Depression. It highlights the pivotal but understudied interwar experiment with corporatism, a model that promised a "third path" between capitalism and communism. The book argues that corporatism transformed the Brazilian state into an agent of economic development, and explains why it matters that this transformation was engineered under an authoritarian regime. The book adopts a novel approach to the history of economic life by incorporating wide-ranging legal, economic, and cultural sources to document the process of state-building from the perspective of government ministries and grocery markets alike. It further innovates with its comparative and transnational approach to state-led efforts to reorganize the national economy by drawing upon connections to the New Deal in the United States, Italian Fascism, and the Portuguese Estado Novo.   
Marilene Felinto was born in the city of Recife, in the Northeast region of Brazil, in 1957, but was raised in the city of São Paulo, where her family settled in 1969. She is an award-winning fiction writer with the most important prize in Brazilian literature, the Jabuti Prize, in the Author Revelation category (1983) for the novel As Mulheres de Tijucopapo  (The Women of Tijucopapo). The novel is translated into English (by the University of Nebraska Press), French, Dutch and Catalan. She has also written The enchanted lake of Grongonzo , Postcard , Journalistically incorrect (2001) and Obscene abandonment: love and loss (2002), as well as an essay on Graciliano Ramos , Other heroes and this Graciliano.
Her most recent book, the collection of short stories Mulher Feita, will be released in September 2022. She has six other books published, including novels, short stories, articles and essays collections. Felinto is a translator from English to Portuguese, and have translated works by Virginia Woolf, Joseph Conrad, Edgar Alan Poe, Ralph Ellison, Hilton Als among others. She is a journalist currently writing as a columnist for the Brazilian highly regarded daily newspaper Folha de S. Paulo. Felinto was a visiting writer by the Department of Spanish and Portuguese at the University of California at Berkeley in 1992 and was a lecturer for several other American and European institutions.
She is CLALS Visiting Scholar from September, 2022 to August, 2023.
Magda Gomes is a Project Manager, student of Civil Engineering, and parliamentary advisor for strategic planning in the City of Rio de Janeiro. Founder of the Guetto Institute and A Rocinha Resiste. She was recently recognized in Brazil for her efforts in mitigating the effects of COVID-19 in her community : Rocinha.