TECLA
Tuesday, November 15, 2022 - 12:00pm
Conference room 473, CLALS, McNeil Building, 3718 Locust Walk
Zoom RSVP
In-Person RSVP
If you want to join physically, but don't understand Spanish, please bring a device to join the simultaneous interpretation via Zoom (phone, laptop or tablet plus headphones). If this is the case, we highly recomended you also register via zoom before the time of the event.
For both in-situ and remote simultaneous translation, please review these instructions.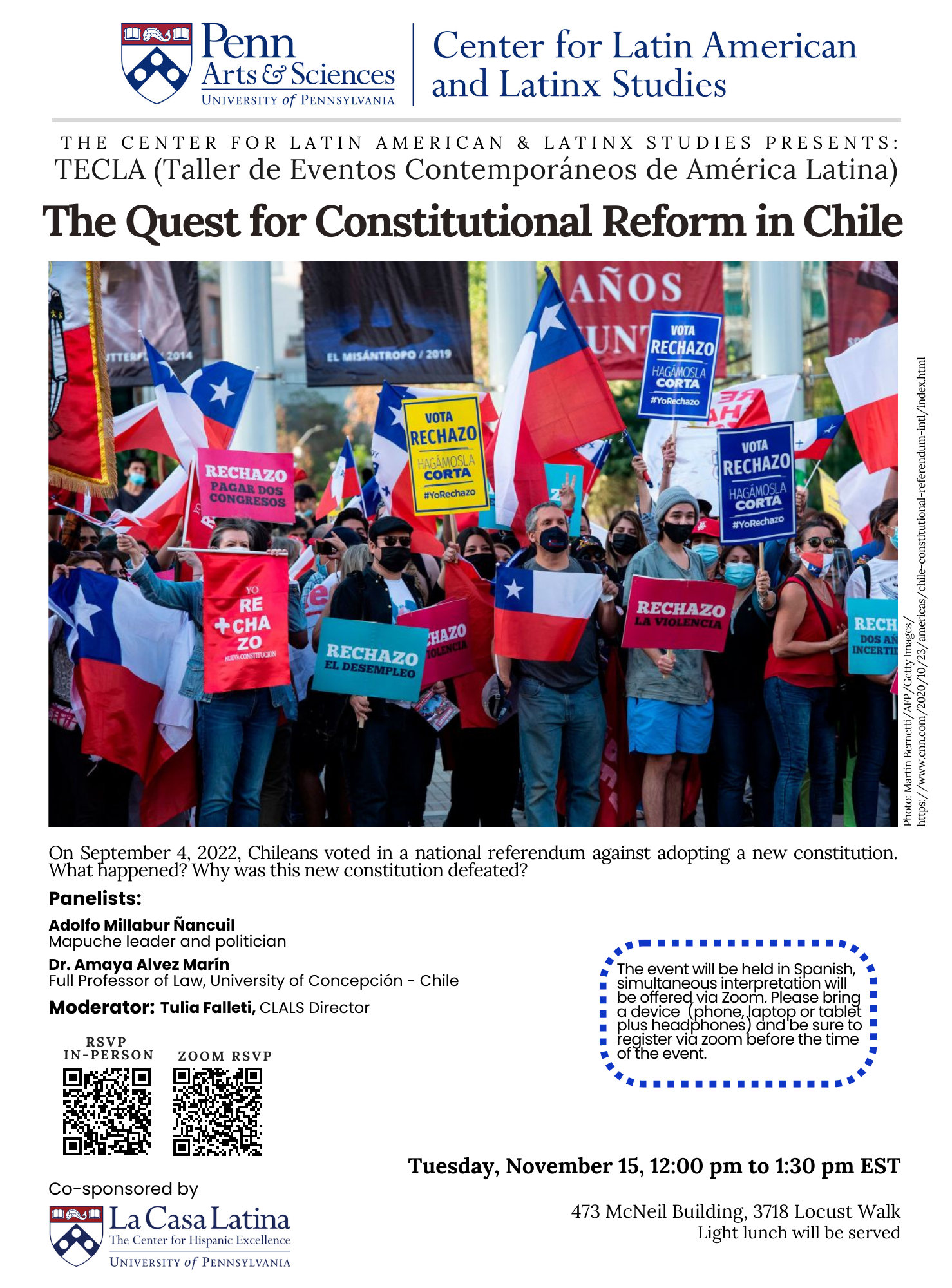 On September 4, 2022, Chileans voted in a national referendum against adopting a new constitution.  What happened? Why was this new constitution defeated? Does this mean that the quest for constitutional reform has ended in Chile? What does this historic constitutional vote signify for other countries? Join us on November 15 at noon to discuss these questions and more with two ex-constitutionalist conventionalists from Chile - Adolfo Millabur and Amaya Alvez Marín.
Adolfo Millabur Ñancuil is a Mapuche leader and politician.  He has been an active member of the Mapuche struggle since the 1990s in the Lafkenche territory of Arauco in southern Chile, and in 1996 he became the first Mapuche mayor in Chile's history when he was elected in the town of Tirúa.  Adolfo Millabur was instrumental in the design and the signing of the important Lafkenche law that regulates the use of the coasts and sea up to 12 miles from the coast in Indigenous territories in Chile. 
Dr. Amaya Alvez Marín is a law professor at the University of Concepción in Chile.  During her professional and academic career, she has researched and published widely on constitutional law, with a focus on the rights of Indigenous Peoples and the human right to water.  She has represented Indigenous Peoples as a lawyer and previously was a lawyer before Chile's Supreme Court.
CLALS Director Tulia Falleti will serve as the moderator.
Co-sponsored by La Casa Latina.