TECLA
Tuesday, September 13, 2022 -

12:00pm

to

1:30pm
Hybrid Event:
Panelists will be virtual, if you want join us to zoom in together at 473 McNeil Building, 3718 Locust Walk and have a light lunch later, register here.
RSVP Zoom, here.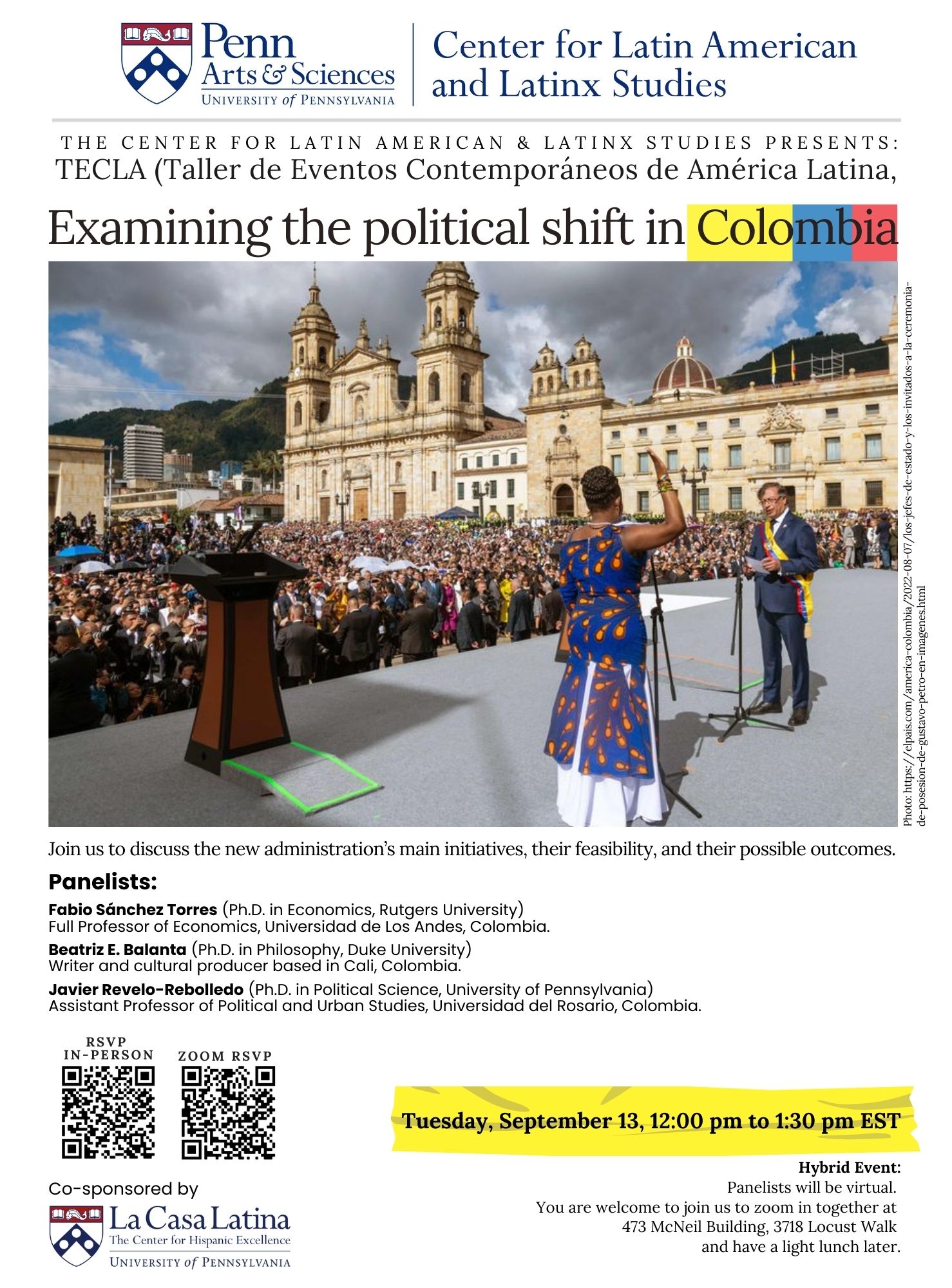 On August 7, Gustavo Petro was sworn in as Colombia's president and Francia Márquez as vice president. Mr. Petro is considered to be Colombia's first left-wing president ever. He has promised to tackle the country's social and economic inequality and to lead a reformist administration that will bring about a definite break from the past. Mr. Petro has announced a tax reform that seeks to increase revenue by raising taxes on Colombia's wealthiest citizens. He has promised a new approach on the war on drugs, one that considers the possibility of decriminalizing drug production, trade, and consumption. Mr. Petro has stated that his administration will carry out a land reform with the hopes of improving land distribution and increasing agricultural productivity. The government's ambitious environmental agenda seeks to tackle deforestation and to put an end to Colombia's economic dependence on oil exports. Both Mr. Petro and Ms. Márquez have claimed that indigenous peoples and Afro-Colombians will have a larger say in national politics as well as in local deliberations. Recently, the new administration stated that it will start peace negotiations with the ELN guerrilla as well as with other illegal groups.
Mr. Petro and Ms. Márquez's campaign gathered much popular support throughout the country. Ms. Márquez, an Afro-Colombian human-rights and environmental activist, has claimed that this will be the government of the "nadies." That is to say, of those who have been historically marginalized from power. Much to the surprise of both supporters and opponents, Mr. Petro has formed a coalition that includes traditional parties and even Conservative politicians. As the new government begins to present its reforms and plans, the Colombian public has met the government's agenda with a combination of hope, concern, and even disillusionment. While some believe that these reforms might improve the lives of millions of Colombians, others fear that Mr. Petro's policies will lead to further economic hardship, political antagonism, and social discontent. A few others are beginning to claim that they fall short of the country's needs for change.
Join us to discuss the new administration's main initiatives, their feasibility, and their possible outcomes with Professors Fabio Sánchez Torres, Beatriz E. Balanta, and Javier Revelo Rebolledo.  
Javier Revelo-Rebolledo is an Assistant Professor at the Faculty of International, Political and Urban Studies, Universidad del Rosario. He is also an associate researcher at the Center for the Study of Law, Justice and Society (Dejusticia). He obtained a Ph.D and a M.A. in Political Science from the University of Pennsylvania (United States), a BA degree in Political Science at the Pontificia Universidad Javeriana (Colombia) and a JD. degree at the Universidad Nacional de Colombia. During his career, Javier carried out multiple studies on state capacity, political regime and the environmental dimension of development policies, the results of which have been published in different formats in order to make contributions to both academic knowledge and public debates on these subjects. He studies the political economy of Amazon deforestation in Colombia, in particular, how the territorial reach of the state is related to land ownership and use. He also investigates diverse conflicts associated with environmental land use planning and management, understanding them as crucial components of contemporary transformations in armed conflict.
Beatriz E. Balanta (PhD., Duke University) is a writer and cultural producer based in Cali, Colombia. She has written about visual and literary technologies of representation in Colombia and Brazil, abduction and colonial hauntings, the racial dynamics of the US university and the discourse of female desire in psychoanalysis.  With a group of feminist scholars, artists, and activists, she is co-editing a series of pamphlets on the militarization of sexuality. Balanta is the co-founder and director of BlackGround, a cultural lab and production company that curates and underwrites creativity summits, exhibitions, collaborative learning workshops, performances and a variety of events and experiences inspired by contemporary art and culture of the African diaspora.
Fabio Sánchez Torres, PhD. in Economics from Rutgers University in New Bruswick New Jersey. He is currently Professor at the Faculty of Economics of the Universidad de los Andes.
Moderator: Juan Pablo Ardila, PhD. in History, University of Pennsylvania, CLALS Postdoctoral Fellow.
TECLA is co-sponsored by La Casa Latina