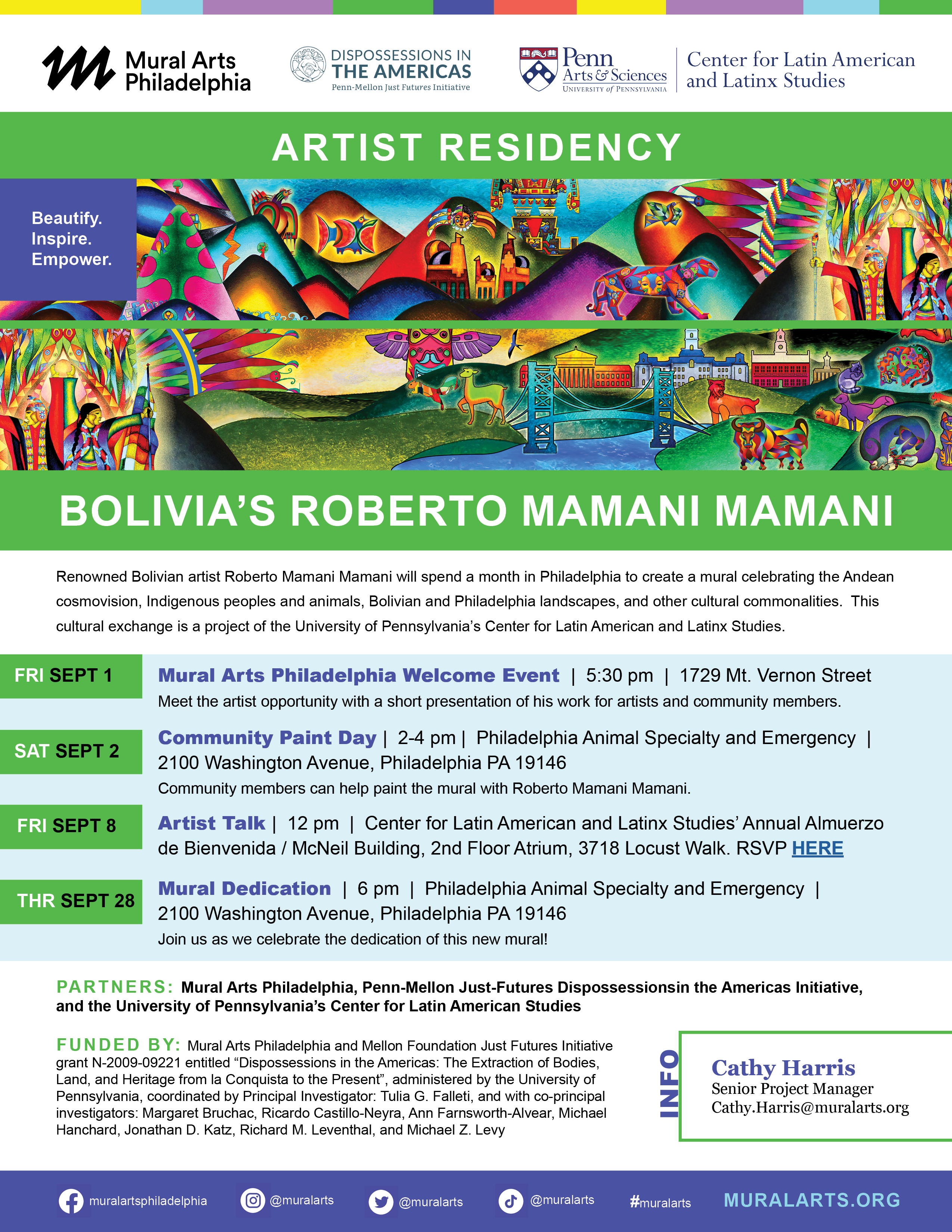 Internationally acclaimed artist and muralist, Roberto Mamani Mamani, is now in town to paint a mural for the city of Philadelphia!
The Penn-Mellon Just Futures Dispossessions in the Americas Project, Mural Arts Philadelphia, and the Center for Latin American and Latinx Studies invite you to meet him at various events this month!  Please see the poster above.
About Roberto Mamani Mamani
Roberto Mamani Mamani is an internationally acclaimed Aymara artist and muralist from La Paz, Bolivia, whose extraordinary and vivid artwork depicts symbols and messages of the Andean Indigenous tradition and cosmovision or worldview, conveying the strength and pride of the community and commitment to sustainable, peaceful, and spiritual living. He weaves in historical themes such as the impact of colonization and how the Aymara-Quechua community, after years of marginalization and oppression, has fought for an empowered collective identity in the region.
His art brings to life the spirit of "Buen Vivir" (or Good Living), a movement and philosophy inspired by the Andean cosmovision that calls for living in harmony with the community and environment and rejecting rampant, unfettered consumerism and capitalism. For Roberto Mamani Mamani, a self-taught artist who at a very young age began creating art in his hometown of Cochabamba, these Buen Vivir principles and the entire Andean cosmovision drive his work and artistic fervor. As he always shares in every greeting, "Toda la Energía de Los Andes," or may all of the energy of the Andes be with you.
Roberto Mamani Mamani has displayed his artwork in approximately 60 exhibitions worldwide including in Argentina, Brazil, United States, Mexico, Italy, France, and the United Kingdom.  He recently participated in the 2022 La Biennale Di Venezia/ International Art Exhibition in Italy, and he has received numerous national and international accolades over the years.  In addition, Roberto Mamani Mamani painted the giant, 12-story murals on the Wiphala community housing project in El Alto, Bolivia, a city adjacent to La Paz.