CLALSES
Thursday, October 22, 2020 - 10:30am
Online event
Please request Zoom link here.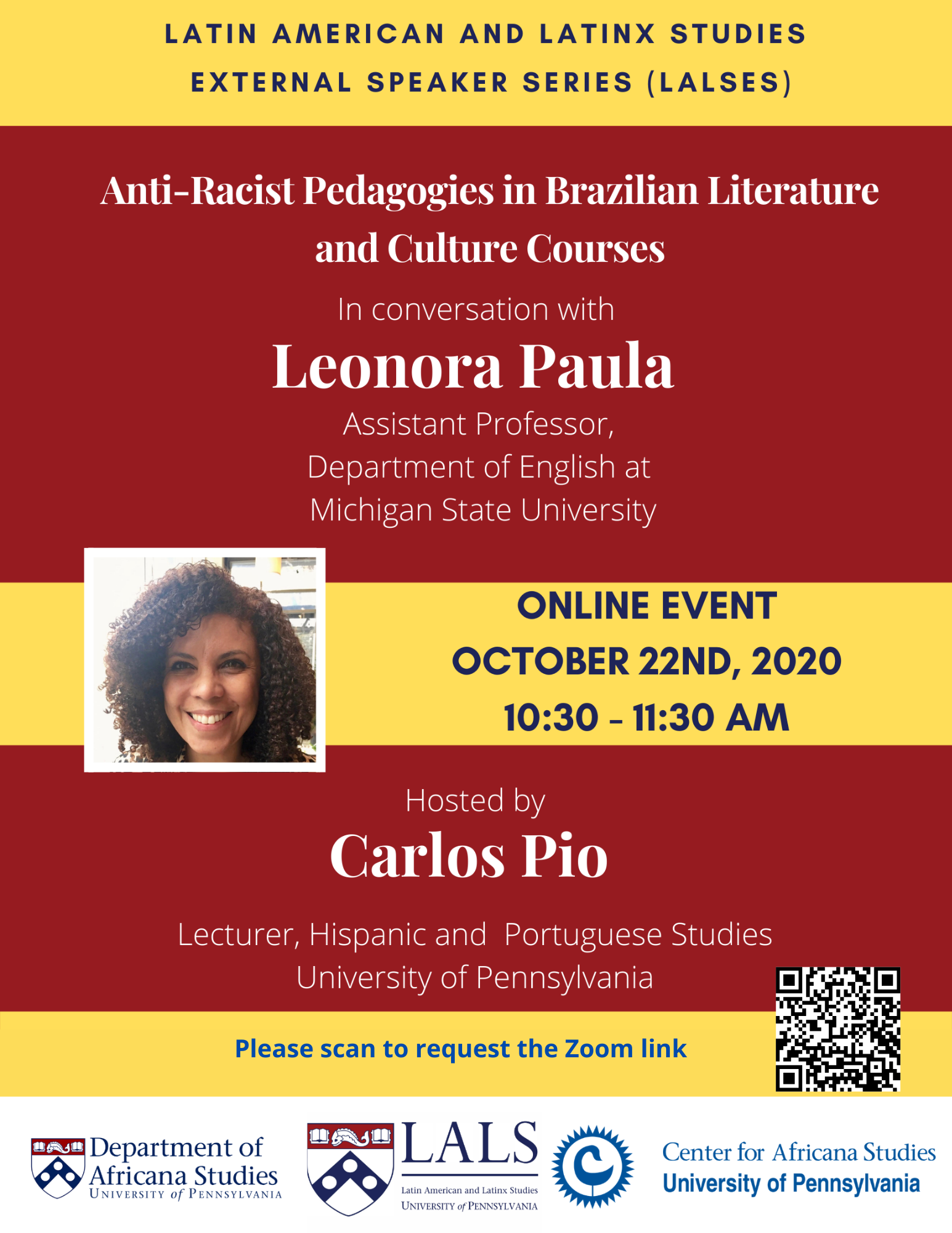 "Anti-racist pedagogies in Brazilian Literature and Culture courses" 
Leonora Paula is Assistant Professor in the Department of English at Michigan State University. She holds a Ph.D. in Comparative Literature from the University of California San Diego (UCSD), an M.A. in Literary Studies, and a B.A. in English and Portuguese from Universidade Federal de Minas Gerais (UFMG). She specializes in twentieth and twenty-first century Brazilian Literature and Culture. Her research and teaching interests include Afro-Brazilian Culture, Latin American Literature and Culture, Critical Geographies, and Urban Art. Her current research examines the role of Afro-descendants, Black women, and spatially segregated artists and writers in transforming representations of urban life in 21st century Brazil. Her publications include peer-reviewed articles about Afro-Brazilian Women's Literature, Contemporary Brazilian Literature, and Urban Art in Brazil and Argentina. Leonora holds a certificate as Instructor of Portuguese as Second and Heritage Language and is the founding co-director of the Sister Circle Mentoring Program for Women of Color at Michigan State University. 
Hosted by Carlos Pio, Lecturer, Hispanic and Portuguese Studies University of Pennsylvania
Find more about Carlos Pio
here!
If you would like to join the event, please request link
here.
Co-sponsors: Center for Africana Studies and Department of Africana Studies