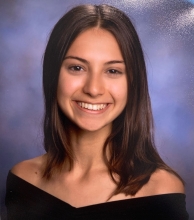 Fall 2021 Penn Model OAS Participant
J. R. Masterman High School
Her favorite subjects are: science, history, world languages and cultures.
Extracurriculars: Hispanic & African American youth mentoring, school Spanish and French newspapers, Varsity Cross Country and Track & Field, and volunteering in academic tutoring, ESL education, and environmental preservation.
Maria Karakousis, a Mexican-American and native Spanish speaker, is a senior at J.R. Masterman High School in Philadelphia. She loves leading her school Hispanic/Latino Association and Bioengineering Club among other science and social justice-centered activities. Maria is interested in studying molecular biology and becoming a biomedical researcher. She likes to run, read, and volunteer and also enjoys 
playing the piano and harp, studying and remediating the urban environment, and performing poetry.