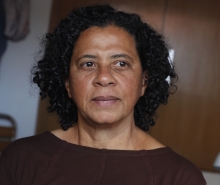 Distinguished Visiting Scholar
Marilene Felinto was born in the city of Recife, in the Northeast region of Brazil, in 1957, but was raised in the city of São Paulo, where her family settled in 1969.
She is an award-winning fiction writer with the most important prize in Brazilian literature, the Jabuti Prize, in the Author Revelation category (1983) for the novel As Mulheres de Tijucopapo  (The Women of Tijucopapo). The novel is translated into English (by the University of Nebraska Press), French, Dutch and Catalan. Her most recent book, the collection of short stories Mulher Feita, will be released in September 2022. She has six other books published, including novels, short stories, articles and essays collections. Felinto is a translator from English to Portuguese, and have translated works by Virginia Woolf, Joseph Conrad, Edgar Alan Poe, Ralph Ellison, Hilton Als among others. She is a journalist currently writing as a columnist for the Brazilian highly regarded daily newspaper Folha de S. Paulo. Felinto was a visiting writer by the Department of Spanish and Portuguese at the University of California at Berkeley in 1992 and was a lecturer for several other American and European institutions.
Term:
September, 2022
to
August, 2023