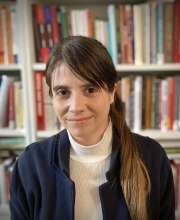 Penn-Mellon Just Futures Initiative "Dispossessions in the Americas"
BA, Anthropology, Universidad de Chile
MA Sociology, Universidad Católica de Chile
Belén Unzueta is a PhD candidate in the sociology department at Princeton University. Her research interests include cultural sociology, social inequality, and race and ethnicity in Latin America. Belén completed her undergraduate degree in social anthropology at the Universidad de Chile, and a MA in sociology at the Universidad Católica de Chile. Her doctoral dissertation examined consensus over ethnoracial categories in Chile and Bolivia using survey experiments and historical research. Belén has been a fellow at Princeton's Program in Latin American Studies and the Princeton Institute for International and Regional Studies, and will start a postdoctoral fellowship with the Mellon "Dispossessions in the Americas: The Extraction of Bodies, Land, and Cultural Heritage from La Conquista to the Present" Research Team at the University of Pennsylvania in the fall.