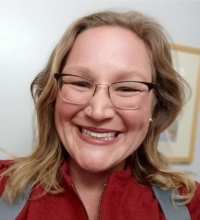 Penn-Mellon Just Futures Initiative "Dispossessions in the Americas"
Ph.D.Cultural and Medical Anthropology, University of North Carolina at Chapel Hill, 2022
MA Anthropology, University of Lethbridge, 2017
MA Justice and Social Inquiry, Arizona State University, 2013
BA Arts,  New College of Florida, 2010
Dr. Lucía Stavig received her PhD in Cultural and Medical Anthropology from University of North Carolina at Chapel Hill in 2022. She received a Master's in Anthropology from the University of Lethbridge, Canada (2017), a Master's in Justice and Social Inquiry from Arizona State University (2013), and a Bachelor of Arts from New College of Florida (2010). She is Peruvian-American and has had the honor to learn with Las Abejas and the zapatistas in Chiapas, Mexico; the Rama people in Nicaragua; the Ñhäñhú (Otomí) in Hidalgo, Mexico; the Kainai (Blackfoot) in southern Alberta, and the Runa (Quechua) of the Cusco area. For her doctoral work, Lucía followed the rehabilitation of the Mosoq Pakari Sumaq Kawsay/New Day for Good Living healing center in the southern Andes near Cusco, Peru. This Indigenous women-led center is dedicated to helping Indigenous Runa women heal from illnesses related to their forced sterilization by the Peruvian government in the 1990s. She and her collaborator, Hilaria Supa Huamán, hold an ongoing collaboration with the Sovereign Bodies Institute (SBI), an Indigenous NGO located on the Wiyot and Ohlone territories in Northern California. Her work appears in Latin American and Caribbean Ethnic Studies, Anthropology and Humanism, and Signs: Journal of Women in Culture and Society, and the International Working Group for Indigenous Affairs (IWGIA).